Pictures taken by "QuickSnap waterproof"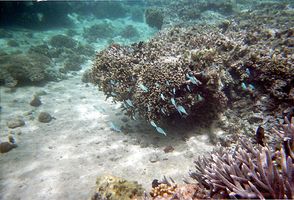 Blue fish. Water depth is 2, 3m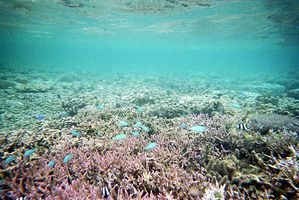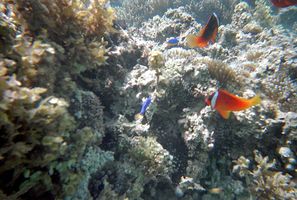 anemone-fish?
Pictures when I went to Fiji from 11 April, 1994 to 18 April, 1994
I took a direct flight of Air Pacific(FJ303,FJ302). A Hotel was Warwick Fiji Resort. That's a package tour, about 140,000 yen for 8 days. One FJD(Fiji dollar) equaled 79.61 yen.
It's an packaged group tour. Arriving at Nadi, a guide took us to go sightseeing in a downtown. After lunch, the guide took us to the hotel.
Meals not included. Buffet style breakfast was $16.5/pax, Lunch for two was about FJD20. Dinner for two was about from FJD50 to FJD80.
I could find beautiful fishes while snorkeling near a shore.