Purpose of travel
Staying my friend's home at Toronto, and seeing Niagara
Going to some wild place. Algonquin N.P. was candidate, but I decided to go Newfoundland.
Going to St. Johns, which is the city of east end of Newfoundland and the oldest town in North America.
Summary
Schedule:August 26, 1997 - September 6, 1997
Air ticket:Canadian Airlines

Narita-Toronto-(X)Halifax-Deerlake-St.Johns-(X)Halifax-(X)Vancouver-Narita 165,000Yen+TAX 2900Yen (IT Tour Center)

(cf: If using NW) round trip ticket to Halifax was 113,000Yen + TAX 13,700Yen. More Tax needed because 2 round trip between USA and CANADA. From Halifax to Deerlake, C$298 by Air Canada. If I go to St. Johns, it's more expensive. In this case, Coupons for 3 flights is cheaper (C$623 by CP, AC has the same coupons). I wanted to go to St. Johns, I don't want to go USA, and I like CP than NW, so I bought air ticket by CP.

Rent a car

Hertz ( C$47.95/day + LDW C$10.00/day )* 4 days + 132km*15¢= C$289.34
132km is distance for extra charge. I drove 532km and 100km/day*4days was included.

Accommodation

Toronto

3 nights at my friends home, near Toronto Univ., center of the downtown. 30rd floor of 30 story building. very good view

Rocky Harbor (Gros Morn N.P)

4 nights at Ocean Acre Inn B&B C$40/day I booked at visitor Center of N.P.

St. Johns

3 nights at ABBA Inn C$55/day. I found it on a WEB page below. I booked by E-mail. I booked Gower Street House, but they changed ABBA Inn, its owner is the same. Both B&B has only 5 rooms each.

Reference Links
Deerlake Airport
I got off from tiny prop plane, there was a tiny airport. How tiny? It's as tiny as Ouarzazate airport, or Ishigaki-jima airport, Okinawa. Most of all plane arrive and depart at this airport were tiny prop plane for about 25 passengers.
I got off the plane, and walked into a building, there were four little booth of rent-a-car. In a Hertz booth, good looking blond lady seemed to have time to kill.
Four days after, when I checked in at airport, the same lady was there seemed to have time to kill. After checking in, I had much time until boarding. While I was reading a book, I caught her eyes, she was yawning, we smiled. After that, she were chatting with persons of other companies to kill her time.
Outside of building, 3 ground staffs played Frisbee. There were many people in a waiting area, half of them seemed to come to meet their family returned from big cities. There were announce of delay of a flight from Toronto, they said Oh!, Ah!, or something.
Deerlake Airport was such kind of airport.
To Gros Morne N.P.
Following a instruction I got at airport, I drove a car. I asked her a map, but she didn't have a map. I confirmed a sign, "Rocky Harbor 67 KM". But I took a wrong way.
There were few guidance signs. I found I had take a Canada Highway #1 after I drove 30km from the airport, it's not a right way to Gros Morne. I had to take #430.
I returned to the airport, and I started from airport again. I found an entrance to #430, just after driving #1 few hundreds meters.
I cooled down and had been driving to Gros Morne on a way $430. It's stupid things that I would have an accident due to such kind of failure. I was alone. I had to be cool. I planned to travel with my friend but he canceled just before I left Toronto. Anyway, I arrived at a Visitor Center.
It's a Visitor Center, but it's like a parking lot on a Highway. There was only a small cabin to buy an entrance ticket of National Park. If you don't know it, you would pass it away. If you do so, it's no problem.
At the Visitor Center, I bought 4 days pass (C$9.75). I was asked whether I booked an accommodation, I said No. She said to me that I should have booked at here, because it may full.
"Do you have Travel Guide? If you have, there is a list on page 59 and 60, ..."
"Travel Guide? I had guidebook, but page 59? what do you mean?"
She showed me a 208 pages guidebook, "500th Anniversary Travel Guide 1997 NEWFOUNDLAND & LABRADOR". "Travel Guide" means this book around there. It's 500th year after Newfoundland discovered in 1497. On a list of hotels at Rocky Harbor, on this book page 59, I found a one B&B, I checked before and it was also on a Lonely Planet, I asked her to book. It's OK. She taught me how to go to the B&B. I got "Travel Guide" and "A Users' Guide to Gros Morne". I drove a car toward Rocky Harbor.
Ocean Acre Inn & Pan-fried Cod, etc.
I booked Ocean Acre Inn, it's aB&B, C$40 / night. There were six rooms and three shared bath rooms. It's clean and very nice. Owner was David, who was a cheerful and a kind guy.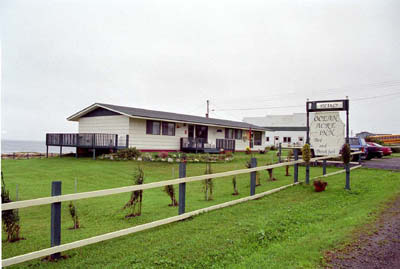 Ocean Acre Inn
I asked him where restaurants and a supermarket. There was a restaurant in the biggest hotel of the town, and one more high class restaurant (David said big dinner! around C$15). Most popular and crowded with people was Fisherman's Landing. For light meal, Jackie's was recommended. There was convenient store near there.
It's just 7 PM, I went to Fisherman's Landing to have a dinner. Newfoundland was famous for cod fishing, so I ordered a cod. They had Pan-fried, Deep-fried, and Batter Cod. I ordered Batter. Batter was not Butter, but a mixture of flour, eggs, and milk. Cod, beans soup, coffee and tips took C$16.
Back to the hotel and I said, "I had a cod at Fisherman's Landing". David said, "It's good. What did you have? Pan-fried? Deep-fried? Batter? Oh! Batter is not good. Pan-fried is the best. You can have a good pan-fried at Jackie's. You must say Pan-fried next time".
Ummm, next time, it's pan-fried.
Regarding fish, we talked globe-fish. David said, "Yesterday, I talked my guests, in Japan, you eat a fish which has poison". I wanted something, but I didn't know English word, 'globe-fish' at that time, so I said, "I don't know what I say for that fish. It's Fu-Gu." David said, "License is needed to cook. It takes three years to get license." He knew well, because he read this topic on Time magagine.
I can't explain Japanese daily life well in English, it's frustrating. In Japanese, it's a very simple word, but I don't know in English. Sometimes I don't have exact knowledge about it.
Shakespeare
At the hotel, there was a dog named 'Shakespeare'. He always wore a nice scarf. Even I called him, "Shakespeare", he turned around. He was trained well. David said to him, "Stay!", he didn't move. When I took a picture of him, he posed with tilting his head. He was smart.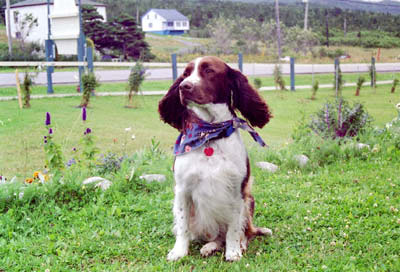 Shakespeare
When I went to St. John's. I saw a newfoundland dog. It has a long hair, big body. It seemed to like sleeping rather than running.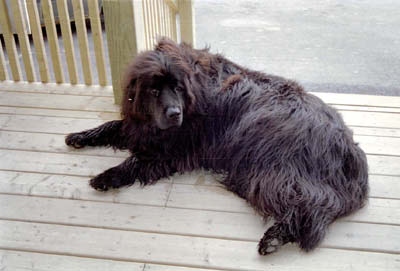 Newfoundland dog
---
Why Newfoundland?
I stayed four nights, but other guests stayed shorter. They might move other place in the park. They were Canadian, Aged couple of American, two couples of German, one was young, the other was aged. I met German travellers anytime, anywhere in the world. There was a young tall guy.
At a breakfast, guests and David were talking various topics. David asked them, "What breakfast do you eat in Germany?", but young lady said, "I didn't have.....". Other guests also have only bread and coffee. David asked me, "How about Japan?". I said that it's almost the same as this. 'This' means bread, coffee, eggs and sausages. He asked, "Don't you have fishes?", so I said, "Some people like to have fish and miso soup." How did he know Japanese breakfast?
Regarding breakfast, at the hotel, I had sausages with maple syrup. I saw it on Japanese TV program. It's better then I expected. After I back to Japan, I put maple syrup on sausages. On a table at breakfast, there three kind of Jam, it's strawberry, partridge, and bake-apple. Bake-apple was not a baked apple, but 'bake-apple'. it also known as Clowdberry, but it tastes like baked apple. Bake-apple and partridge were very popular here. I saw them at a souvenir shop. The guests also know it.
I asked very often, "Why did you come to Newfoundland?". I said, "I have a friend in Toronto. I stayed there. I looked for a place that I can relax in a nature, and I came here". For American and Canadian, It's surprised that it takes 12 hours from Tokyo to Toronto". I said, "I go back to Japan from St. John's via Halifax, Vancouver, to Tokyo. I don't know how long does it take". So, they seemed to be shocked.
Western Brook pond Boat Tour
Western Brook Pond is a fjord, that is "a long, narrow inlet with steep sides, created in a valley carved by glacial activity". The tour boat goes this fjord to the end. It is 16 km and takes 2 hours and half for round trip. It charged C$27.
You can buy a ticket at the biggest hotel of Rocky Harbor. But you have to go to Western Brook Pond by yourself. You have to walk 3km from a parking lot at highway. Guidebook said it's popular tour, you should book at least one day before. It's cloudy. I wondered how much tourists joined, but I was surprised at many tourists coming there. It was one of the most popular place in Gros Morne, there were aged tourists who were hard to climb mountain.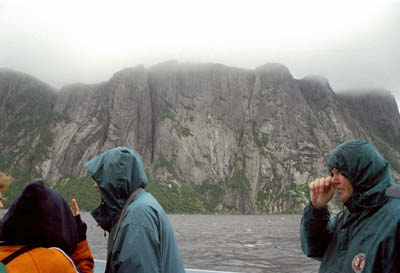 I was soaked
It's a calm inlet that has no waves, and the boat don't swing. But when the boat speeded up, I got splashes. Some passenger were soaked. I had a poncho I got when I was on a boat, 'Maid of the Mist' at Niagara. I wore the poncho, and Old lady next to me said, "Oh! Niagara". Both sides of inlet were great. I saw it for a long time and I had a pain on my neck. A guidebook said that the highest point is higher than CN tower (533m), but I couldn't find the highest point. (The highest point is around 700m high)
---
Killing time on a rainy day
After the tour, on a way to the hotel, it began to rain and keep raining on that day.
There was a visitor center at 5km away from Rocky Harbor. It has materials, exhibitions, books, and souvenirs. You can watch short video program. It's good to kill a time. There was a board which shows weather forecast until the day after tomorrow, it would be a bad weather tomorrow.
I went to a laundromat. For wash and dry, it costed eight quarters, and 55¢ for detergent. it's good to wait for drying cloths with reading a book on a rainy day.
After that, more reading a book in the bed, and sleeping....
Lighthouse
Next day, it was rain. I walked around near the hotel. At 3km away from the hotel, there was a cape called Lobster-Cove Head, and lighthouse at there. I heard it's fine from one of the guests, I went there. The rain just stopped. It was strong wind near the lighthouse. Only during a Summer, you can enter the lighthouse. Inside the lighthouse, there were pictures which described history around this area. I was interesting with them which described the first people who had came to here long long time ago, and pictures of Lobster hunting.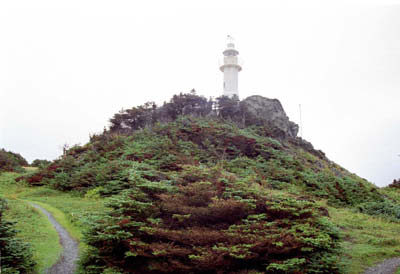 Lighthouse
---
Berry Hill
In the afternoon, the rain stopped completely. I went to Berry Hill hiking course, it took 1 hour, 1.5km long, for going up and down of small hill.
I found a description on A Users' Guide to Gros Morne that Berry Hill was an island, because sea level was high at the end of the glacial age.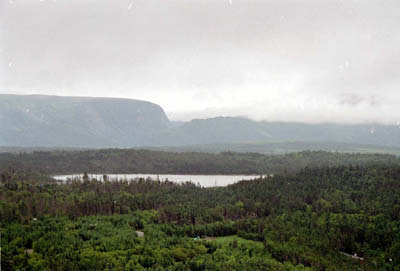 View from top of Berry Hill
---
Gros Morne Mountain
Day 3. The sun came back. David said with smile, "You have been staying here 2 days, and it's first time to see the sun". Yes, good, good.
At breakfast, we talked Mt. Gros Morne. First, we talked if you can go only one place in the park, where was the best. David was thinking for a while and he recommended to climb Mt. Gros Morne if it's fine day. It seemed to be wonderful view, but guidebook said, trekking route to the Mt. Gros Morne was 16 km Return, 7-8 hours, rating between Strenuous and Very Strenuous, so I almost gave it up.
The rating means a hardness of trekking. There were four rating, Easy, Moderate, Strenuous, Very Strenuous. Berry Hill was between Easy and Moderate. Western Brook Pond was also between easy and Moderate.
When David had climb there with his sisters, it's 6 hours that they had lunch at the top, took a rest few times. It seemed it was not so hard. I asked him, "I don't go mountains, no experience, it's OK?" He said OK. He recommended much. So I wanted to go, if I started at 9 AM and took 8 ours to return, it's still 5 PM, it still before a sunset. OK. Let's go.
I bought a sandwich for lunch, potato chips, and water, and went to a parking lot at start point of Mt. Gros Morne trekking route. It's 9:20 AM that I started. I said myself, "Don't haste, slow, slow", and walked slowly. Aged couple walked as the same pace as me, and young guy walked incredible speed. Hmm, there were various people in the world. I arrived a base, it took one hour.
Mt. Gros Morne's figure resembles Ayres Rock, Australia. It's a rock mountain, few green. There was the base at a point to climb rocky part of the mountain. The base has a small bench, route guidance, and notice plate. Most climbers took a rest here.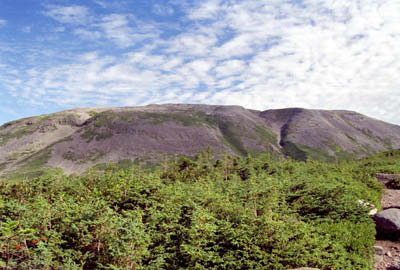 Mt. Gros Morne
A View from the base was very wonderful. When I took a rest here on a way back, aged couple was seeing the view. I asked, "Will you climb from now?", they said, "No, our goal is here". Everyone has their own way of having a fun.
Until the base, it's a normal trekking course. After the base, it's hard. A route was almost straight forward to the top. It's a sharp ascent, an angle was about 40 degrees. There were many rocks on the route. I had to use hands to climb.
I wore an old tennis shoes, and I had a pain. I saw downward, the base was far away. From here, it's easier to climb up than climb down. Suddenly, I reached a flat plain. It's 11:20 AM, 1 hour from the base. I walked 20 minutes on the flat plain, and I found a sign post of the top of the mountain. I walked toward a backside of the top.
A view from the backside of the top was very wonderful. I forgot all my pain to climb. There was a long and thin lake, its surface was deep blue, it's like a mirror. Over the lake, opposite side was a cliff, it's eroded. I could see eroded terraces far away.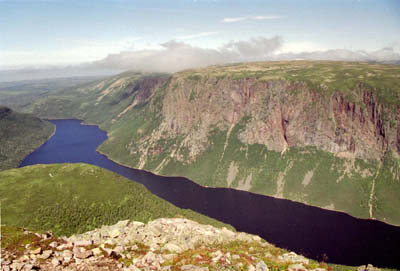 Lake at backside of Mt. Gros Morne
Gros Morne N.P. is called "Galapagos of Geology", and its terrain is very interesting. I don't know a geology, I just enjoy the view. From top of the Gros Morne, you can see what terrain Gros Morne N.P. has.
I had a lunch, and went down with rest at view point. Eventually, it's 15:30 PM. It's just six hours trekking.
---
St. John's
St. John's is the biggest city in Newfoundland, but it has old-fashioned tastes. It's the oldest city in North America.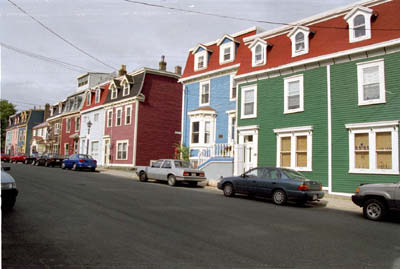 St. John's
On a way to a harbor, which Seeing puffins colony tour boat would leave, there was a big pond that provided water to St. John's. I asked its name to a woman who took tourists to the harbor, she said, "Big pond". There was other long and thin pond, it's named "Long pond". There was one more pond, named "Middle Pond". Regarding a name of pond, the pond at the backside of Mt. Gros Morne was "Ten mile pond".
---
Puffin colony tour
I joined a puffin colony tour (C$28 + C$13 for round trip between downtown to a harbor). You can see puffin on a guidebook or WEB pages, it's famous birds. Puffins are not good at flying. It's OK to fly from a nest at a slope of colony to the sea, but it's very hard to fly from sea. They are running on a surface of water for long time, and taking off. If the boat goes close to them, they try to run away, but it's no time, then they dive into the sea.
Tour guide was a young guy. The boat left a port, and he explained views around and tour schedule.
And then he talked about puffins, "...., so, most people don't know exact size of puffins. What size of puffins do you think?"
Sure. What size of puffins?
One lady said, "same as a sea gull?", guide was smiling.
"The size of puffins is ten feet. Can you guess six puffins in a room?"
Sure. It's terrific to guess.
"...... It's not a true. True size is from eight inches to ten inches. It's smaller than sea gulls"
Puffins were very small, I couldn't took pictures with 80mm lens. The boat were closing on a island that was a colony of puffins. I found a group of small birds, it's puffin. There were many puffins on the sea. The boat were closing more on the island. Enormous numbers of puffins had their nests on a slope of the island. Puffins go to the sea and return.Around the boat, there were many puffins.
There were some sea gulls on the island. "They catch and eat puffins", guide said, then one sea gull caught a puffin on a sea, and carry it on a flat rock. The sea gull ate it.
* * *
My return flight was at 6:20 in the morning from St.John's. It's storm. I couldn't sleep with worrying about it. I watched weather news on TV. I left the hotel at 5AM to the airport.
The plane took off in safety. Via Halifax, Ottawa, arrived at Vancouver. It's still half of the way. From Vancouver, I went back to Japan with many Japanese. I reached my home just 26 hour after I left the hotel at St. John's. It's hard to back from other side of the earth.