Money exchange
You can use US dollar at Siem reap, I exchanged Japanese yen for 200 US dollar at Narita airport. $1 was 106.17 yen on 3rd March, 2008. At Bangkok airport, I exchanged 5,000 yen for 1570 Thai baht for taxi,meal and others. At Siem reap, I needed US dollar and I exchanged at a bank and money exchange booth. At a Cambodia Asia Bank, I exchanged 2,000 yen for $18 and 2,000 riel. At a money exchange booth, a rate was bad, I got only $17 and 2,000 riel.
At Siem reap, you can use us dollar. Riel is for use of less than one dollar, it's the same as a cent in the US. You don't need exchange your dollar or yen for riel.
Hotel at Siem reap - Molly Malone's -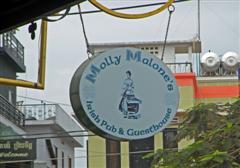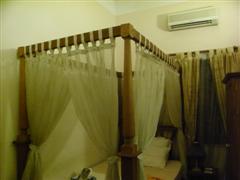 Single room is like this.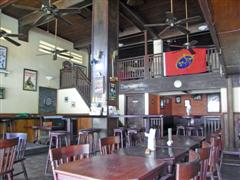 A pub at first floor is like this. Very noisy at the night.
As describing on the "Preparing for travel" page, I selected Molly Malone's from budget class guesthouses. I didn't know that 1F is Irish pub. Later I found it on a restaurant pages of "Arukikata" (guidbook) and described as "it also drive a guesthouse"
I stayed there 3 nights. A location is very good. There are many restaurants near there, and comvenient store. There are massage shops, Internet cafes, travel agents. You can go an Old Market easily.
They have transporting service from/to airport. I ask them to transportation. When I went outside from the airport, I could find a man who had signboard written my name. I had expected there were many persons who tried to take me to their hotels, but very few people ask to go with them. I guessed that the man was an employee of Mooly Malone's, but it's not. He is a taxi driver.
Anyway, He took me to the guesthouse and I asked him to pick me up at 3 o'clock to go to Angkor Wat.
A room was single room, it means the room has only one bed, and it seemed smaller than the picture of twin room on their WEB site. It was like a Japanese business hotel. It cost $20 per night.
A big reason to select this guest house was free WiFi. I didn't like to bring a laptop, but I had a PDA with WiFi and it's enough to read emails. I tried to connect WiFi. It's easy to find access point, but I couldn't connect to it. I went downstairs and ask how to connect WiFi. I needed password to connect and I got it. OK. It's easy to connect with password. It's very convenient to use the Internet.
Meals at Siem Reap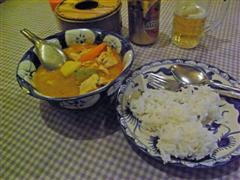 Chicken curry at Khmer Kitchen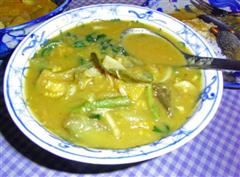 Soup at Khmer Kitchen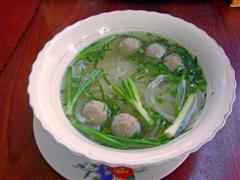 Meat-ball noodle at Soup Dragon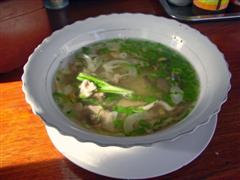 Pork noodle at Soup Dragon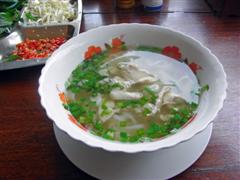 Beef noodle at Soup Dragon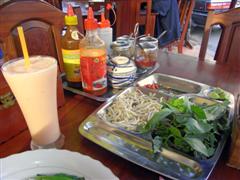 Herbs and spices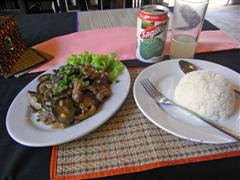 Stir-fried beef and mashroom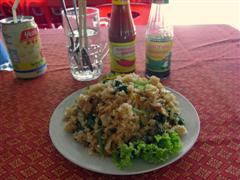 Fried-rice with meat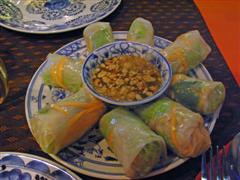 Spring roll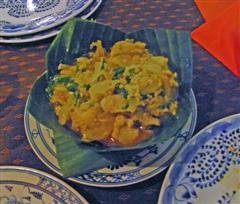 AMOK
First night, I went to a street near a Pub street. There are many new trendy stylish retaurants. Many travelers had been coming to the street.
I walked around the street to look for a restaurant seemed to be good. It's early time and most retaurants were empty, but Khmer Kitchen was crowded with tourists. It's a famous restaurans not only Japanese "Arukikata" but also other language's guide books recommends this restaurant.
I ordered chicken curry, vegitable soup, and Anchor beer. Curry was so good, but soup was not my taste. It's hot, and taste spice I don't like.
Next morning, I took a noodle at Soup Dragon which located the same street of guest house. You have two choice of noodle, one is Cambodian style and the other is Vietnumese. Herb and spices box is served with noodle to ajust taste as you like.
This restaurants is crowded in the morning. It's very delicious noodle, so I took all breakfast at here while I stay Siem reap.
I had a lunch on 2nd and 3rd day at restaurants near the ruins which taxi driver took me. On 2nd day, I went to the restaurant located between Pre Rup and Taprohm, which is for tourists. It takes $6 for stir fried beef with machroom, rice, and soft drink. On 3rd day, I went to a restaurant inside the Angkor Tom, it takes $3 for fried rice with meat.
On a second day, I booked a dinner with Apsala Dance show. I told some name of a restaurant from guide book to a driver, but he recommended Jasmin Angkor which is located near the guest house, and took me to there.
The dinner was buffet style, it's so nice. The charge was $12, and I order Angkor beer, it's $1. The show took an hour, I had a fun, but not so great one. I guess this kind of culture had also destroyed and started from zero.
On a third day, I went to Kumer Traditional Food that was located on the street near Pub street for dinner. The restaurants on this street was not so crowded except Kumer kitchen, but most of them were brand new, you should try these restaurants. Kumer Kitchen was popular because of reasonable price.
I ordered spring roles and AMOK which was Cambodian traditional food. It's more delicious than Kumer Kitchen. I drank a jug of beer, but total cost was less than $10. AMOK was very delicious.
I found some good restaurants, but I guess a Cambodian restaurants business is not so matured, because dishes of food court in Bangkok was better than Siem Reap restaurants. It's very high level of food business in Bangkok.
Shopping in Siem Reap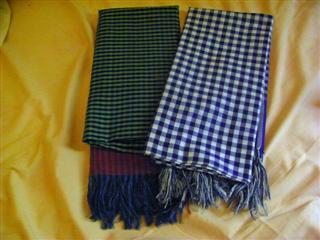 Krama(Cambodian scarf)
I bought two kramas. I paid too much, it's $6 for two.