December 28, 1992
At 7:30 AM, I went the bus terminal to ask a time of a bus for Tinerhir. I asked yesterday, but a man said 8, and other man said 6 and 10. Anyway, this time, a man said it's a 8 AM. I asked other bus to go to Tinerhir, and he said 13 PM. If I took a bus at 8 AM, I arrived at 12 AM, but if I took a bus at 13 PM, I arrived Tinerhir in the evening, it would become dark. I hurried to the hotel, packed my luggage, and checked out.
I took a private company's bus. It's cheep, but a baby were crying, a boy next to me vomited, it's terrible. There were two bus companies, private and CTM(state management company). CTM was expensive and used good buses. After leaving Ouarzazate, the bus ran on a road it's surface was not hard for a while. It shook passengers and luggages on a roof top. I worried that luggages would drop down. It took 30DH from Ouarzazate to Tinerhir.
Leaving Ouarzazate, the bus was going through a wide plain, where no plants, only stones, it's all brown color I saw. If I would have been left here alone, I would become sand of the Sahara.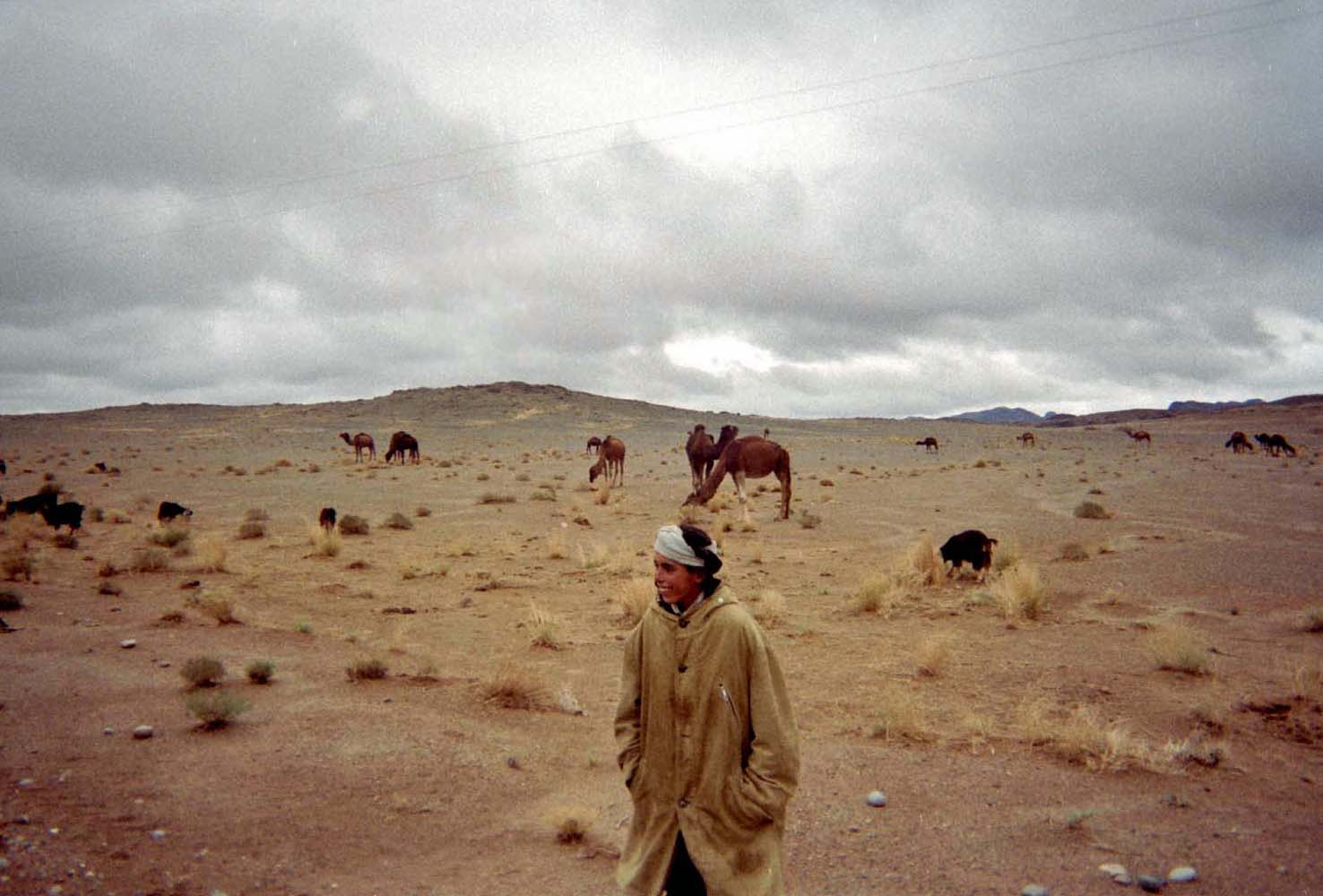 Leaving Ouarzazate, a wide plain there
Suddenly, the bus stopped on the plain. I got off the bus with other tourists. Well, well, a man of bus company got under the bus, and he was repairing something.
I found a French girl in the same bus, and said hello.
"Bonjour, tourist?"
"Yes, tourist. Where do you come from?"
"Tokyo, Japan. What happened?"
"I don't know. It's broken. We have to walk from here." (laugh)
Some Moroccan joined.
"Hey, Japanese, Welcome. Where are you going?"
"Today, I go Tinerhir. Then, Erfoud, Fez, Meknes."
"Ah, Meknes is good place. Do you know Yokohama."
"Yes, near Tokyo."
"I have a girlfriend in Yokohama"
Then French girl said,
"A girlfriend, you have girlfriend all over the world. Do you have a girlfriend in Morocco?"
"No."
"Hey, Where did you come to Morocco?"
"Tokyo."
"Directly from Tokyo?"
"Ah, from Paris. I came from Paris to Ouarzazate."
While we were chatting, the bus had been repaired, and we could go.
After that, I talked to a Berber man sat next to me in the bus. He showed me a budget hotel in Tinerhir. It's 30DH. In Tinerhir, I had a cup of mint tea with him, and I asked him how to go to Todra gorge. I was hungry and said so, and he said, "Come to my house, You can eat Tajine." Tajine was a famous cuisine of Morocco. Then I went to his house.
On the way to his home, we went to a Berber drug store, and they let me see and smell their various spices and drugs, such as a saffron and some drug to treat a block nose.
At his home, I met his brothers and sisters. When I was drinking tea, his sister asked me to see a carpet. Ah, ha, that's why they had invited me. I saw a carpet and her explained about it.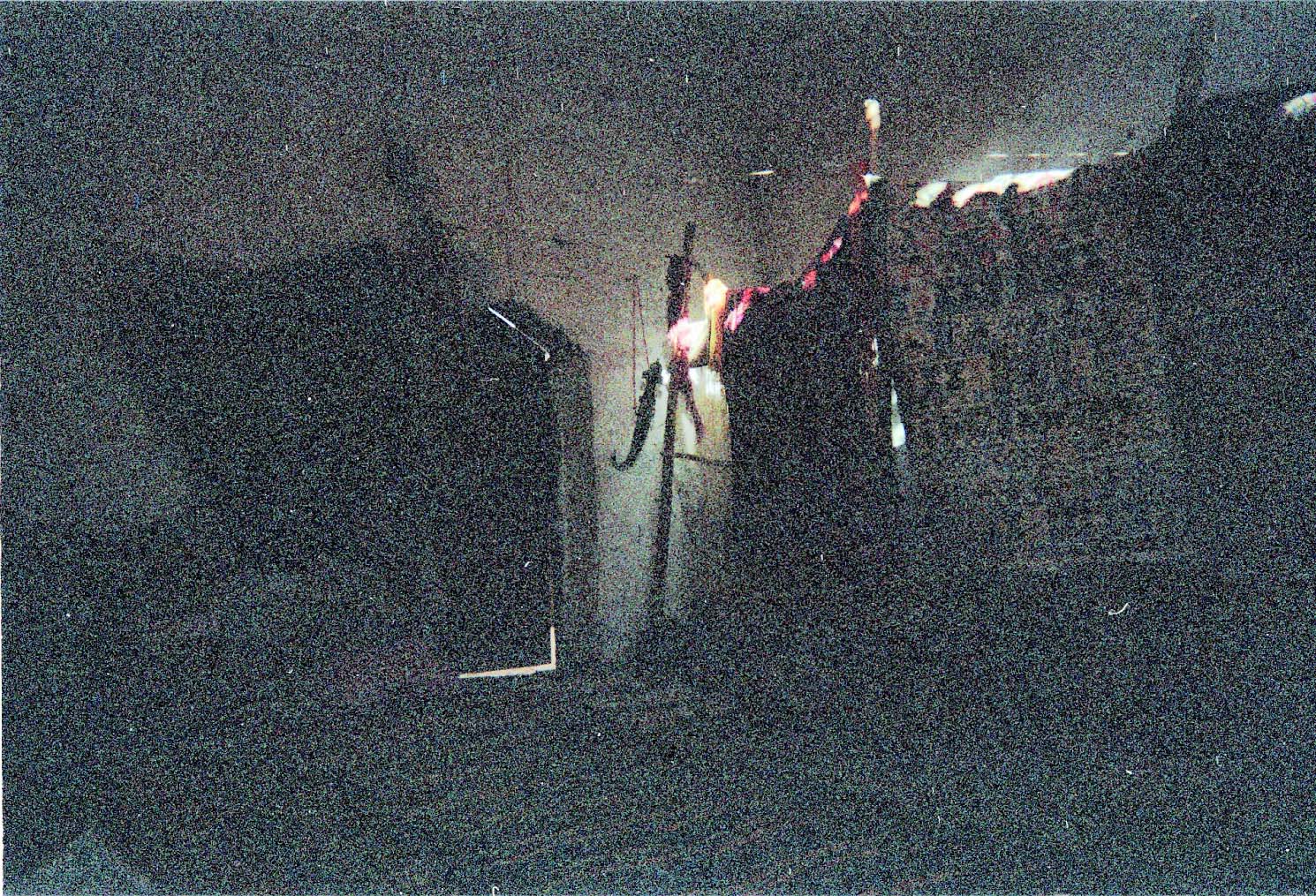 weaving a carpet
There are two kinds of carpet. One is weaved by once, which uses silk to weave a pattern not so much. Another is weaved by twice, twice means that they weaves background by wool at first, and stitches patterns by silk next time. Weaving once takes 3 weeks to complete, and weaving twice takes 2 month to complete. When I went to Turkey before, I didn't buy a carpet. But I had wanted a carpet at that time. I had seen a wonderful carpet, I had wanted it very much. I asked a price, it was 3950 DH. It's too expensive.
Tajine had cooked, and we all had it. It's delicious. I had tajine, oranges, and tea. They talked about carpets again. I said if 2000 DH then I would buy it. But, it seemed nonsense price for them. They said 3350DH, it's too expensive. 3200DH, they discounted. I said "How about 2500DH?" They looked it's not happy. I said 2600 DH, and they said 3000 DH.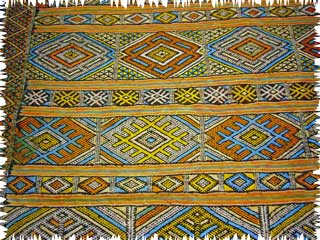 Carpet I bought in Morocco
I was talking about prices with elder sister. A man who was translating said to me, "Between two prices, 2800 DH is reasonable." and "Do you have something Japanese goods? If you give us two T-shirts, 2600DH is OK". So, I gave them three T-shirts and a towel, and we agree final price was 2500 DH. Eventually, I bought it. I didn't know a reasonable price, so I had to judge a price whether I could satisfy it or not. Anyway, it was a very very great carpet.
I had a bitter smile because they said It's OK to pay by credit card. Their uncle had his business about golds, and he could handle a credit card, they said. I wanted to pay by cash because I felt using a credit card was unsafe. I didn't have so mush Dirham, so I said to them I wanted to pay by Japanese yen. They had a table of currency exchange rate. It's the exactly same as the one I saw at the bank in the airport.
I wanted to buy a djellaba. The djellaba is a long, loosely fitting hooded outer robe with full sleeves. I said so to him, and he said, "tonight, my mother came home and we can show you". At night, I went to his home again, but he said, "my mother is not here. so come tomorrow".
At that night, there was a power outage of whole of village. I remembered that a guidebook described you had to a small light, because in a desert area, often power outage happened. I walked around the village, somebody was selling a small light, but I felt it's a stupid to buy a light while power outage. At a hotel, they prepared candles. After a while, a power came. They said a power came within two or three hours, they were right.
Oh, I have to say I saw very beautiful stars while a power outage. I had never seen such a brilliant Orion.
December 29, 1992
In the morning, I had a breakfast at my Berber friend's home. I would try to go to Todra gorge. I tried to go there by taxi, but there were not enough people to go to Todra gorge. A taxi needed 4,5 people to go to Todra. While I was walking around there, I found a French tourist at a bus stop, he was waiting a bus toward Erfoud. He said bus would come at twelve. I would have gone to Erfoud rather than Todra. I went to a open space for a taxi, and I asked guys "Is there a taxi to go to Todra?". Some guy said, "I will find a car, come with me". He said his friend would take me to Todra.
I met his friend and get on a car. His friend got off a car on the way, and a driver took me to Todra gorge. At Todra gorge, he said, "30 DH!". Hmm, it's not free. It's expensive, but he said that a taxi driver got 5DH from six person, so I had to pay 30DH. I made him to discount 5DH. In Japan, a taxi costed much more, so 30DH (420 yen) was not so expensive.
Todra gorge was a wonderful place. I liked there rather than Aït Benhaddou. In hot Summer, you would feel a flow of a river was comfortable. At that time, it's too cold to touch water. There was very high walls at both sides of gorge. They were almost vertical and its height was 160m. Some groups of rock climbers were rock climbing at the walls. The gorge was very quiet. People's voices sounded in the gorge. The walls were very impressive. I walked along the river. Passing some point, there was no water in the river. I wondered where water come from, and looked for it. Eventually, I found a spring. Todra gorge was worth to come.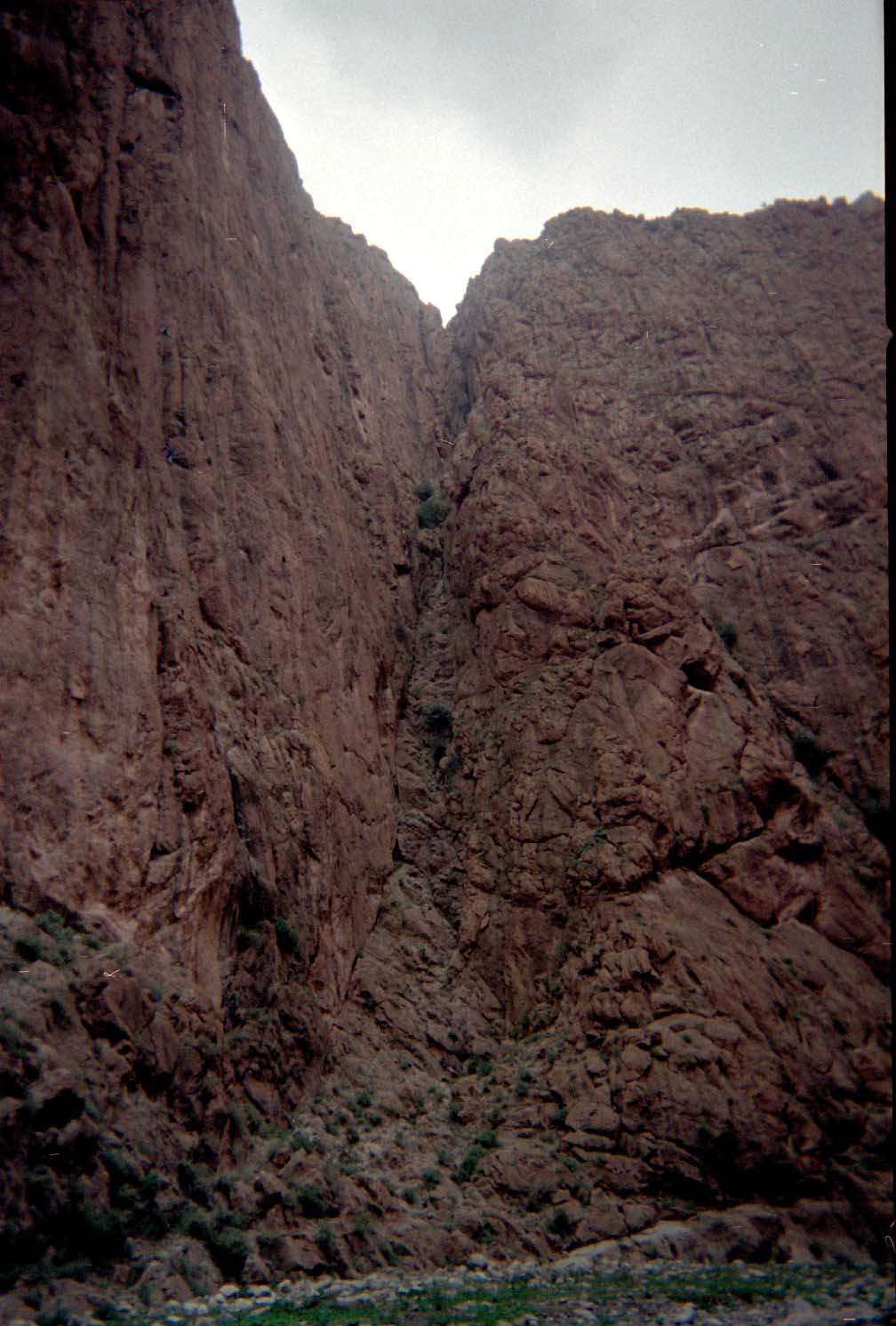 Todra Gorge
When I got off the car, I asked to the driver how could I back to the village. He said something with pointing at '3' on his watch. So I guessed he would pick me up at 3 o'clock. I walked around there and rested at a cafe to wait until 3 o'clock. It's 3 o'clock but no car came. I decided to walk to the village. If I would be tired, I could hitchhike.
On the way, kids were calling me. "Bonjour" was better, "Japonais?", "Chinois?", "Jackie Chan", "Karate", etc. When I rested, kids come to me and talk something.
"!"#$%&'"
"What?"
"#$%&%$$$$$%&!""
"Wakannai (I don't understand)"
"Wa-ka-na-i"(hahahaha)
"Baka! (Fool!)"
"Ba-ka"(hahahaha)
"What?"
"!"#$%&"
"What do you say?"
I ran away from them, and they thrown stones to me. Not only them, on the way to the village, other kids also thrown stones to me when I ignored them. They were annoying because of saying "Japonais, Japonais", "Chinois, Chinois", "Jackie Chan" to me. How were they educated a manner? Once, they said, "Karate, Karate, Jackie Chan", so I gave an imitation pose of Karate, and they were afraid and said, "No, No, No" and ran away. Ha, ha, ha.
Kids were very annoying on the way to the village. How they think of foreign tourists? They were rude. They pulled their corner of the eyes outside to narrow their eyes, and made fun.
It's 15km from Todra gorge to Tinerhir. It took 10 minutes to go 1km, I walked on a downhill. It's far. I found young guys were making fire, I join them to warm my body. They enjoyed when I said hello in Arabic and Berber. They taught me how to call various things in Arabic, Berber, and French.
I taught them how to call the same one in Japanese and English. I didn't remember and I wanted to stop it, but they were enjoying about it, so I spent a time for it.
I had to hurry, or the sun would set before I reached Tinerhir. I was tired because of walking 10km. I don't care kids, couldn't say hello. At a 1km before the village, I was very tired. It was almost dark. Eventually, I walked to the village.
When I came to the hotel, guys were having a soup called "Harira". I pointed it and said "Give me that", I had two bowls of Harira, and a cup of café au lait. I backed to my room and slept soon.