Submitted on

Wed, 06/05/2009 - 21:30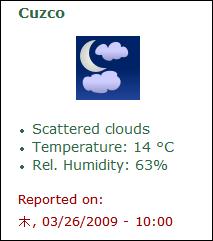 Sample of weather block
Weather of related places of contents you read is displayed in the left-side bar.
It's not for all contents, but if the content has location attribute, the weather of the location is captured and displayed.
Weather information from METAR is used. Codes of METAR is decided by WMO.
Actual data is gotten from http://weather.noaa.gov/ Because the data issued from airports, it's not names of cities, but names and locations of the airports displayed.
In a database I use, for example, "Arturo Merino Benítez International Airport" of Santiago, Chile shows "Pudahuel" as its location. In this case, I changed "Pudahuel" to "Santiago".