Date: 15 July, 1996 - 23 July, 1996
Air ticket: UA Award

(I reserved the ticket on 8, May.)
Accommodation
7/15, 7/16 Bangkok Royal Orchid Sheraton

2600B + Tax + Service by using Half price discount ticket of Millage Plus. After tax and service charge added, it was 3061B, expensive. The room was river view. It's good. I took 5B train from an airport, and walked from a station to the hotel.

7/17 Ayutaya Old B.J. Guest House

Single 80B rest room & shower shared. I found a notice in Japanese, 「読み終えたら整理整頓」(Keep clean when finished to read) in the book shelf under the stairway. I also found a note which stay people writes comments was almost written in Japanese. Yes, here seemed like a accumulating place of the Japanese backpackers. Atmosphere is good. But music sounded to the night late, it was noisy. There was a Japanese letters in the wall of the room. I stayed in the guest house of this type first time, but I don't like it.

Old BJ Guest House

7/18, 7/19, 7/20 Khao yai N.P. Khao yai Garden Lodge

Single 200B Restroom & Shower shared. Germany drived this hotel. It has Khao Yai N.P. Tours. It seemed most of guests were Germany. 200B room was the cheapest. There was a cottage with air conditioning and hot shower for family use. I recommended this hotel.

7/21 Bangkok White Lodge

Single 400B w/Air Condition, Hot Shower wo/TV. In the block front of MBK Center. Backside of Reno Hotel. As the name shows, wall in a rooms is white. The room is clean. Good.
Sightseeing in Bangkok
7/16. It's third visit of Bangkok, and this time I stay very good hotel. So, I want to spend a time for reading books at the pool side.
I rode a boat (6B) at the peer beside the Royal Orchid Sheraton, got off at Tha Tien, went to Wat Poh (20B). I asked Thai Traditional Massage (180B). It's very good time.
I rode a boat again (1B) to go opposite side of the river, Wat Arun(20B). I found a crew of Japanese TV show. I took a boat to back and walked around the Palace. I saw the TV crew again. It was TV Asahi and I found Shinya Yamamoto, who is caster of 'Tonight'. I asked them date of on-air.
I went to Wat Benchamabophit (Marble Temple) by bus (6B).
I took a bus again to go to Isetan&ZEN. I got a cup of coffee, and walked to Siam Square. I had a lunch at food center of MBK. I walk around MBK, and bought a cap (210B), and went back to the hotel by bus (3.5B). At a hotel, I read books on the pool side.
Price of Water
During a travel, I bought a bottle of water many times. The prices are very different according to the brand. A 900ml bottle I bought at Don-Muan station was 8B. A 500ml bottle I bought at convinience store next day was 19B. It was a Volbic related brand. I found a cheaper one, but bottle is not a PET, but something like white plastic, and cap was never closed if you open once.
International Call
I bought Telephone Card for International Call. There were two choices, 250B and 500B. Even 250B, I could talk to Japan long time. I had to use yellow public telephone which is dedicated to international call. I found it around Sheraton Hotel, and Siam Square, but I coundn't find it at Airport. I also coudn't find yellow public telephone in Ayutaya.
At the airport, I had to use creditcard telephone.
Most Post Office have a telephone calling service. I could use creditcard for payment.
Fruits
Rambutan, Mangosteen, Dorian, Orange(Som), Mango, Longan, Banana
Dorian was better than one I ate at Singapore, but I don't like it.
Khao Yai National Park
A main purpose of this travel is visiting here. Khao Yai National Park is the first established NP in Thai. Thai people often come this NP on weekend for camping. ou can see elephants, tigers, monkeys, deer, and other wild animals. If you are lucky, you can meet a tiger.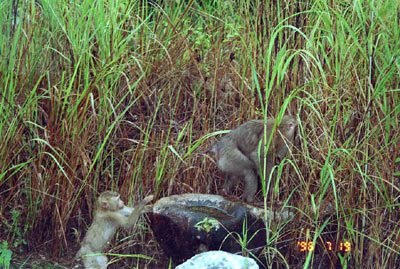 Wild monkey
In front of the Pak chong station, I found a information counter of Khao Yai Garden Lodge, but it was closed. While thinking how to go to the Khao Yai Garden Lodge, some guy came to me and took me to there by his car. A guide book says the Khao Yai Garden Lodge has free transfer from/to the station. The fee must be paid to the driver later.
After the arriving the lodge and I got a room, I asked about Khao Yai NP Tour. An owner of the lodge said one day and half tour took 850B. But because it was low-season, the tour became very flexible. First, the owner said we went to a cave of bats this evening. Some staff said we started at 3 o'clock, but other staff said 5 o'clock. Eventually, we started at 5:30. The cave of bats located at a top of hill, we had to walk 15 minutes to climb the hill. We reached the top at 6 o'clock, and were waiting for coming the bats. The bats coming out from the cave to hunt after the sunset. The number of the bats were extraordinary. Around 6:30, few bats coming out from the cave, after that, the number was increasing, then big amount of the bats coming out. it were the hundreds bats per second. It seemed a 3 or 4 meter width flow of a river of flying bats.
Once back to the hotel, then we went to night safari. It's just going around in the park by car, I had excited a little, because I might meet a wild tiger. But I didn't. We searched using search-light from the car. I found many deer and squirrels only.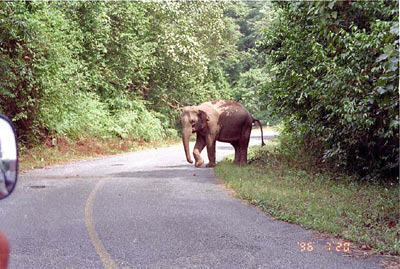 Happen to meet wild elephants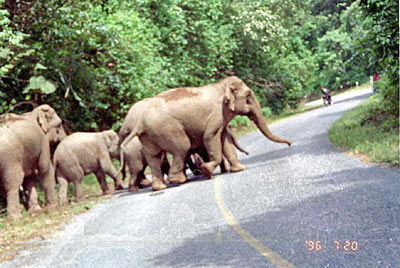 Happen to meet wild elephants
The first day was over, wend back to the lodge.
Next day, we - German family, guide, and me - went to the park. We were walking in a jungle and arrived to the point of very good view. Then we went a visitor center in the park and see some exhibitions to learn. After that, we walked to a suspension bridge. Back to the visitor-center, then went to a big waterfall by car. while we had a lunch at a parking near the big waterfall, it began to rain. It was very strong rain. After all, we gave up to go to the falls, and went back to the hotel.
I had planed that I went back to Bangkok in the day and went to Kanchanaburi. But, Owner of the lodge said "Not charged for tomorrow, you should go Khao Yai tomorrow". So I decided to stay there.
Third day. We walked in a forest for two hours along a river side. It's an easy walking because it's a downhill way. I had a fun of atmosphere that was like a jungle. After walking, we went a waterfall and swam. The water was not clear and cold.
In the afternoon, we headed to the big waterfall that we had gave up yesterday. But, it's rain when we reached near the waterfall. We backed to the lodge with disappointment.
On the way to the lodge, we met wild elephants! Wao! The guide who was also excited, cried "Elephant!, Elephant!". The elephants crossed the road. We couldn't go near them, it's a little far, but I shooted pictures.
Add to the elephants, we met monkeys. We threw foods from a car, the monkeys came to near the car. We found the mother monkey with baby, and child monkey.
German Family
They stayed the same lodge in Khao Yai. A father, a mother, a son, and a daughter. The father was Reiner, the son was Paul, the daughter was Nena, I forget the mother's name. The father and the mother were both teacher. They had spent their three and half week summer holidays in Thai. They stayed at Bangkok for five days, Samui Island for two weeks, and they came Kao Yai as last stay. They went directly to the Dong Muang Airport from the lodge and went back to Germany.
They stayed at a 400B room of budget guesthouse near the Palase. The room had a hot shower. At Khao Yai Garden Lodge, they stayed the most expensive room which takes 800B.
They had come back from Samui Island by the train. They adviced me that I should take second class because third class was noisy, when I would go to Bangkok by the train. I asked them what kind of food they had in Bangkok. They went to good restaurants includes Chao Phraya River Dinner Clusing.
They were a good travelers. They got comfortable life without spending much money.
By the way, the father and the mother drank much much beer! They drank one big bottle for a lunch, and two or three bottles for a dinner.
Shopping
My clothes had been dirty at Khao Yai, so I had to get a new shirt and pants. I got them at MBK center, 250B for a shirt and 500B for a pants. I asked a woman of a shop to take up a hem, then she said, "OK. I'll do". She took a sawing kit, put some marks and begun sawing by hand. Hmm, great!
For souvenir, I got two underpants made of silk (250B), cloth for wearing around a waist (300B), and four small square cloths made of cotton (480B).
I got a Clinique five lipsticks box at Duty-free shop located in a same building of ZEN Bangkok (1620B). I also found the same one in the plane back to Japan, it's cheaper ($48). I got a silk shirt (3100B) and a silk scarf (850B) at Jim Thompson.
Meal
I'm alone during this travel, so I ate at a coupon style food-center, fast-food. Yoshinoya's combo was very bad. Mr. Donuts's coconut donuts was very good. I could have a good coffee in Bangkok.