December 30, 1992
I woke up at midnight, it seemed to be rain. Next morning, it was half rain, half snow. After a while, it became clear and a rain stopped.
I went downstairs,
"Where do you go?"
"Erfoud"
On the third day of Tinerhir, guys gathering at a cafe of this hotel knew about me, they said, "You went to Todra, yesterday, Where are you going?". It's nice they were. A bus for Tinejdad which is on the way to Erfoud would leave at twelve.
I had a time until leaving, I wrote a postcard. Yesterday, I sent a postcard and stamp was 2.8 DH. Today, it was 2.7DH.
I found a Japanese couple in a open space. They were also going to Erfoud. They were looking for people to go with them by a grand taxi. They asked a man who managed a taxi, and he said 115 DH per person. They couldn't find persons, then they decided to go by bus. If we took a bus, we had to take a grand taxi at Tinejdad.
When three of us were drinking a tea, a man who was also gathering persons for grand taxi came to us. I said to him, "It's hard to gather people, isn't it?", he said, "I have two over there". We had already bought a ticket of bus, the man, who was Greek lived in Paris and his parents were French and German, decided to go with us by bus.
The man, who has three nationality of Greece, France and Germany, was very thrifty man and hard negotiator. At Tinejdad, he negotiated with a taxi driver to agree 25DH per person to go to Erfoud. He said, "Ah, it's hard negotiation". He was very helpful for us. Three Japanese, The man who lived in Paris and he was Greek, French, and Germany, and two Moroccans, total six people getting on a Mercedes-Benz to go to Erfoud.
On the way to Erfoud, we met grazed camels, we got off the car and took pictures.
After going for a while, we had to stop because the road submerged. It was a flood. Oh, would we have to go back from here? It's due to rain yesterday. A driver was talking with local people, the man lived in Paris said us we had to wait until the water subsided. I asked him how long, and his answer was, "Insha'Allah".
Tracks and Land Rovers went over the water. A depth was about 1m. Benz couldn't go because of its low height. After some minutes, we decided, "Let's go". some local Moroccans pushed the car. A length of the road submerged was about 50m. A engine of Benz stopped soon, but we succeeded to go through a submerged road.
We paid 5DH per person for pushing the car, and 5DH was discount price due to the man lived in Paris's hard negotiation. That part of the road only was submerged and other part was dried. We could go very smoothly. It's strange that where the water came from.
Arriving at Erfoud, Two Japanese and I looked for a hotel. I got a middle class one, it's 55DH. They wanted better hotel, and went somewhere. A man of the couple was a teacher of high school. He took a long vacation from December 21 to January 9. A woman, his wife, had working for some travel agent, but recently resigned her job.
She said that Iberia Airline canceled flights around December 20. It might cause I couldn't get Iberia's ticket. My travel agent said it's impossible to book Iberia after December 19. We talked about my job and topics of travel in Morocco. They came to Madrid from Japan and took a train and a ferry boat to go to Tanger. They were very good couple.
At Erfoud, I asked where a hamam was, and washing my body after some days. Hamam was very good, it's like a Japanese bath.
After that, when I walked around a town, I met some Japanese. I talked to them, and they were member of Japan Overseas Cooperation Volunteers. They had been working for half a year. They had a party tonight. They told me a good and cheap restaurant, and a place to buy alcoholic drinks. I went the restaurant they told me, and met a Moroccan who spoke Japanese well. He had married a woman who one of Japanese I met. I asked him how to get married.
"I met my wife at Erfoud" (Hmm...)
"At first, she stayed here two weeks" (Really?)
"Second time, she stayed here nine month" (Wow!)
"And we married"
I went out the restaurant, and went to the place I was told to buy alcohol drinks, but I couldn't find any shop. Eventually, I found an entrance and I could hear people's voice of talking inside. I went inside. There was a drinking place. Moroccans came to drink. I was surprised to see this kind of place. Moroccans were drinking beers. I bought a wine and a beer. A beer took 10DH, a wine took 60DH.
Next day, I would go to Rissani. Because I had heard a market was opened from 7 AM to 2 PM.
December 31, 1992
I don't forget this day whole my life. A wilderness extended far away, and desert, people from all over the world, moon light, shining star, celebrating new year, strong rhythm of Berber drums and bells, and singing songs.
I had a plan to see a market opened at Rissani in the morning, then go to a desert area, and back to the hotel until the night. It took 30 minutes by grand taxi, which cost 5.5 DH per person, to go to Rissani. It's too early that people were placing various things to sell.
When I was walking around, I caught by a man of a souvenir shop. I went to his shop and had a tea. I didn't want anything, so didn't ask price or something about goods, but just had a tea. He said he would guide the market.
I didn't ask him to guide me, but he began to guide the market. I followed him. I saw donkeys, sheep, goats, and cows were placed with tying their forelegs. It's pitiful that the animals tying their forelegs and stepping by both forelegs. There was a open place to tether donkeys owned people came to the market. The donkeys were crying with loud voice. They would go back to their home with heavy loads.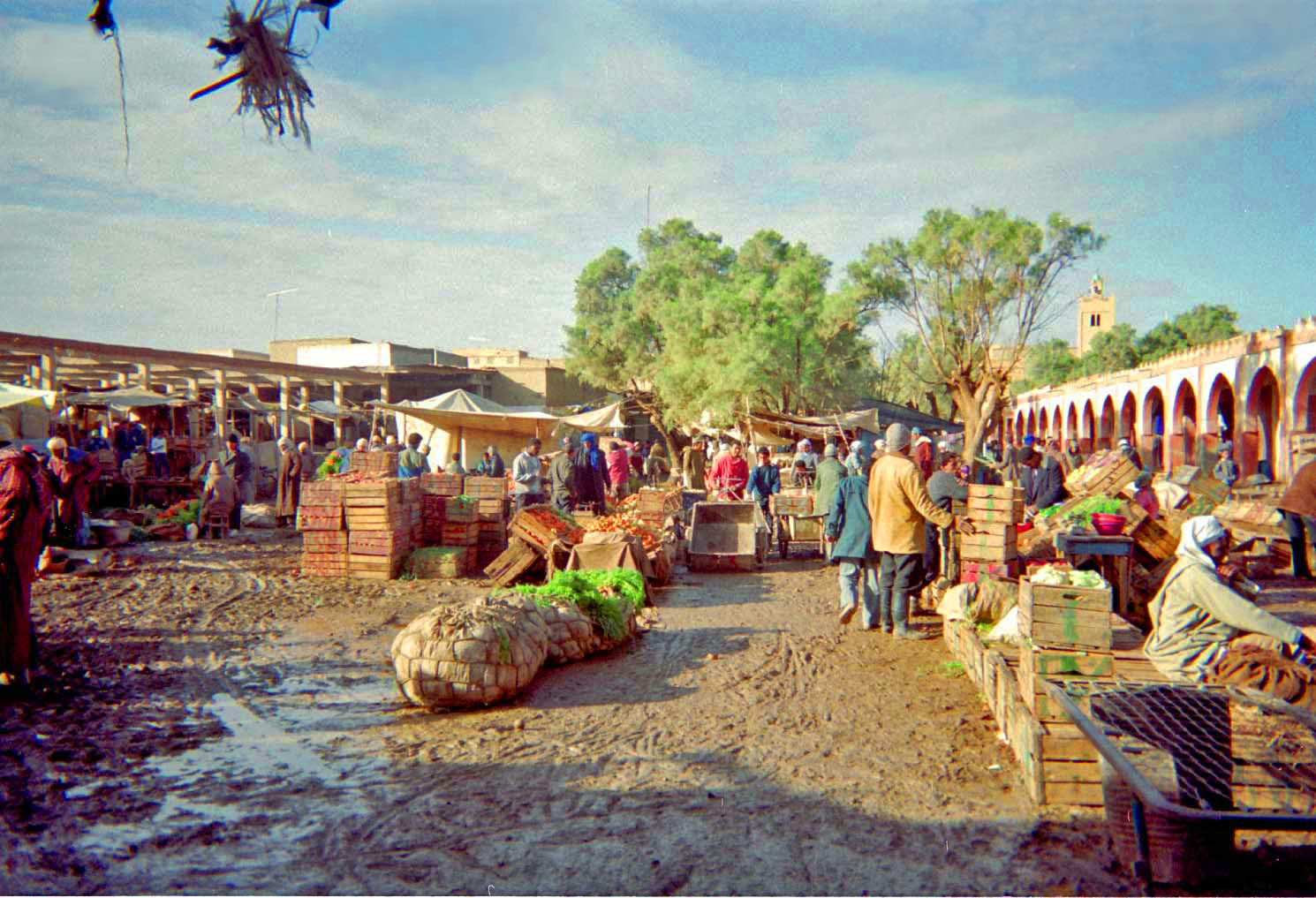 Market at Rissani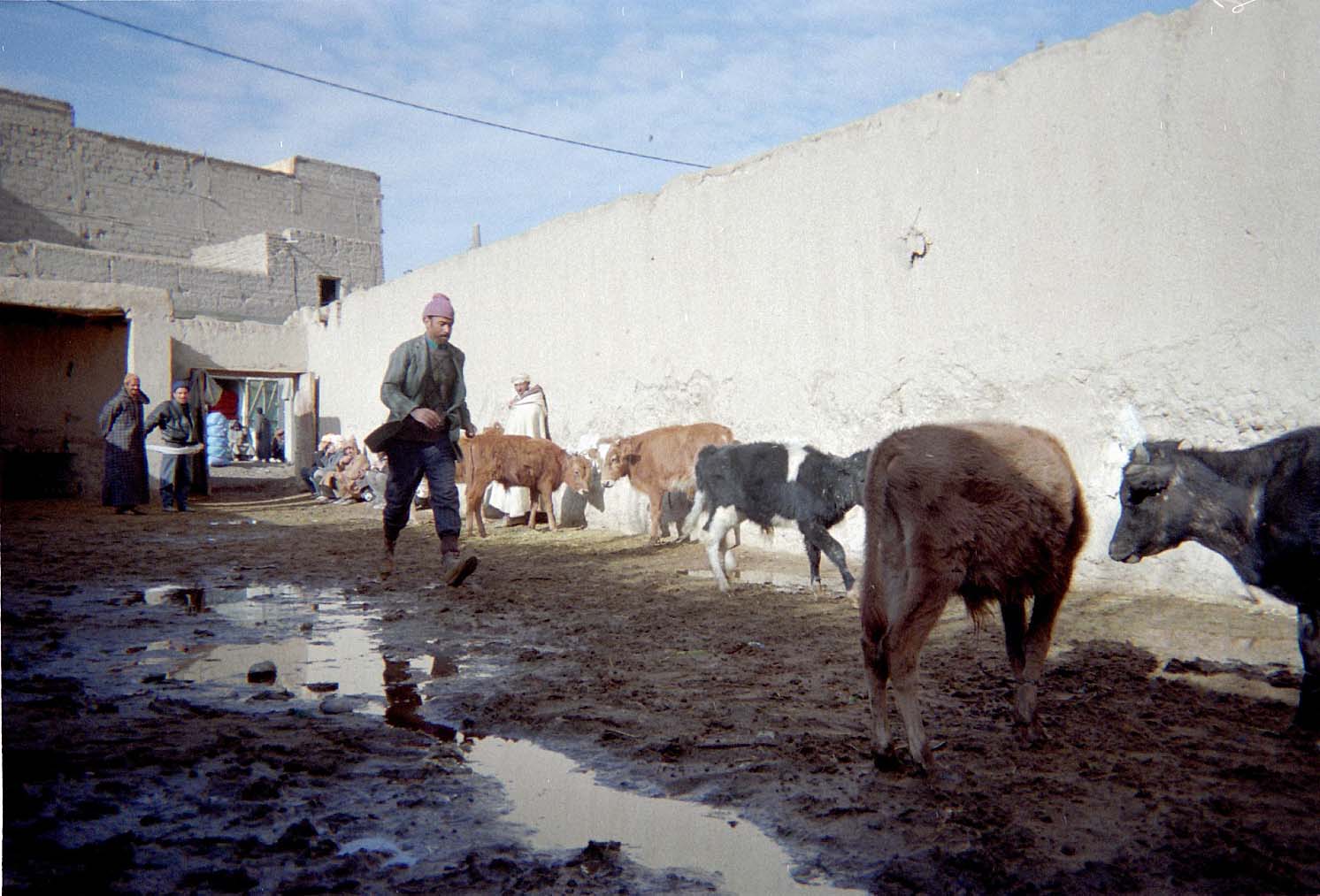 Market at Rissani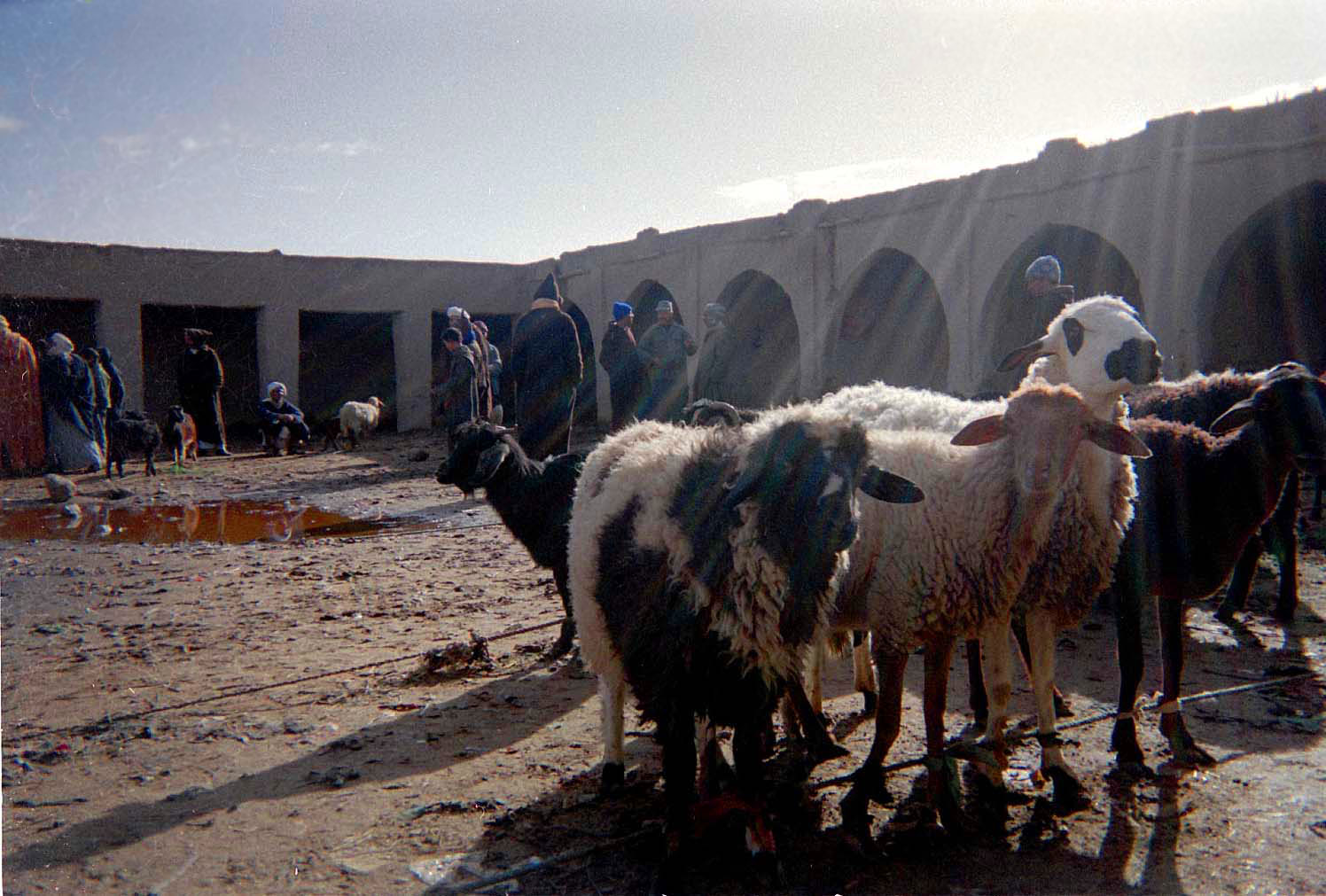 Market at Rissani
Berber said to me that I had to pay him or present something because he had guided me. But I ignored all because I didn't ask him. Certainly he guided, so I could pay him 10 DH as a tip. But I affected by the Greek guy, I didn't want to pay. He might think I was nervy and Scrooge.
In fact, Moroccans were relatively poor and Japanese were rich. It's a difficult issue.
I had to find a way to go to the desert. I asked people and they said it's normal to stay one or two nights at the desert. Umm, how could I do? I heard I didn't need more than 10 DH to go to the desert and I confirmed it here. Eventually, I got information that a car would leave at 1 PM from a front of a cafe named "PANORAMA".
I didn't know exactly where I would go, but it would be OK to back to here, so I thought at that time. I had a guidebook, a bottle of water, a piece of bread, an orange, a knife, and a map of morocco in my day-bag. I had been sitting at a cafe 'PANORAMA'. I confirmed some people about going to the desert, and they said a bus would leave 1 o'clock.
When I was sitting at the cafe, the Greek came. He had say he would go to the desert. When we were talking about going to the desert, two girls came and asked us how to go to the desert. I said them the bus left here at 1PM. I asked a driver of the car whether two girls could get on the car. There was a space for two persons. More three guys came and they sat on a roof. They were from Belgium. The Greek gave it up and would go by another way on the next day.
Around 2 PM, we left there, I was excited, what would be happened. I understood I couldn't back to here today. It's OK. The car was slowly going a terribly bad road at a speed of walking.
After a while, the car speeded up on a plane. It speeded up but it rolled. I worried guys on the roof.
I found a dune in front. Wow, it was the desert. It was reddish brown. Finally, I came to the desert, I made a deep impression on. The car stopped at a small town and some people got off, and then the car was driving more and stopped in front of a small rest house in the desert.
What? We got off here? It seemed so. I and two girls looked at each other. "What do you do?" "We want to go back to the small town this car stopped". We were talking but decided to have a tea anyway.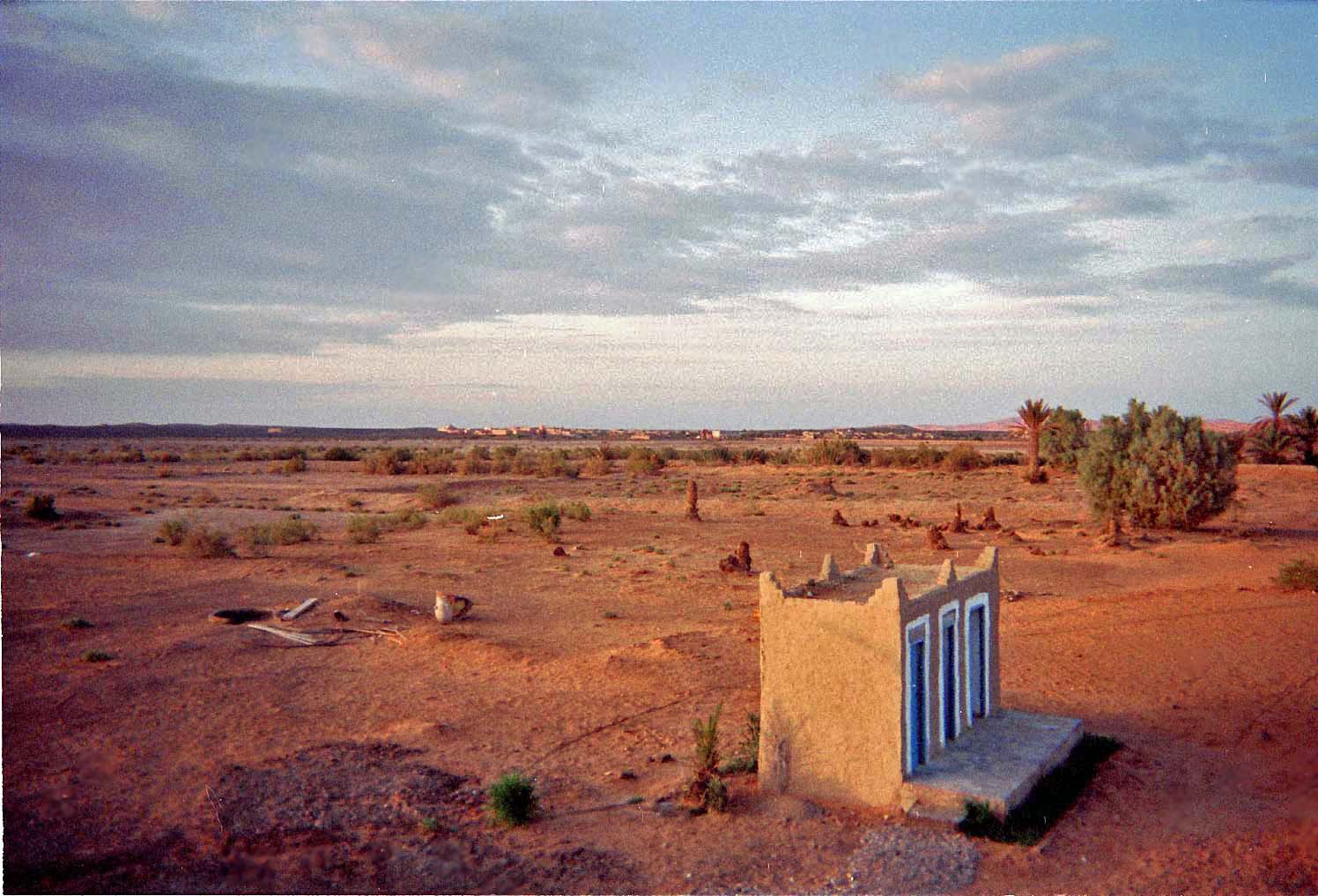 Arrived at the desert
Two girls were from Manchester, England, and lived in Madrid to teach English. Belgians were talking to a man of the rest house in French. One of girls spoke French. I depended on her. One of Belgians speaks French as a native language and English little. He asked something to the man of the rest house, and talked to the English girl who speaks French, and the girl talked to me by very easy English. She was a English teacher, so I was her student?
After that, girls said "We will stay here tonight", then "So am I". The rest house had rooms and we could sleep without sleeping bags. We were talking "We will froze without sleeping bags".
We had a tea and snacks at a rooftop of the rest house. Belgians had a pile of foods, such as breads, oranges, cookies, dates, olives, and peanuts. They said, "If you're hungry, you can have it as you like". The Belgian said this in French and the English girl translated for me.
The sun was setting. We saw the sunset on the rooftop of the rest house. Ah, what a beautiful sunset! It was the last sunset of 1992.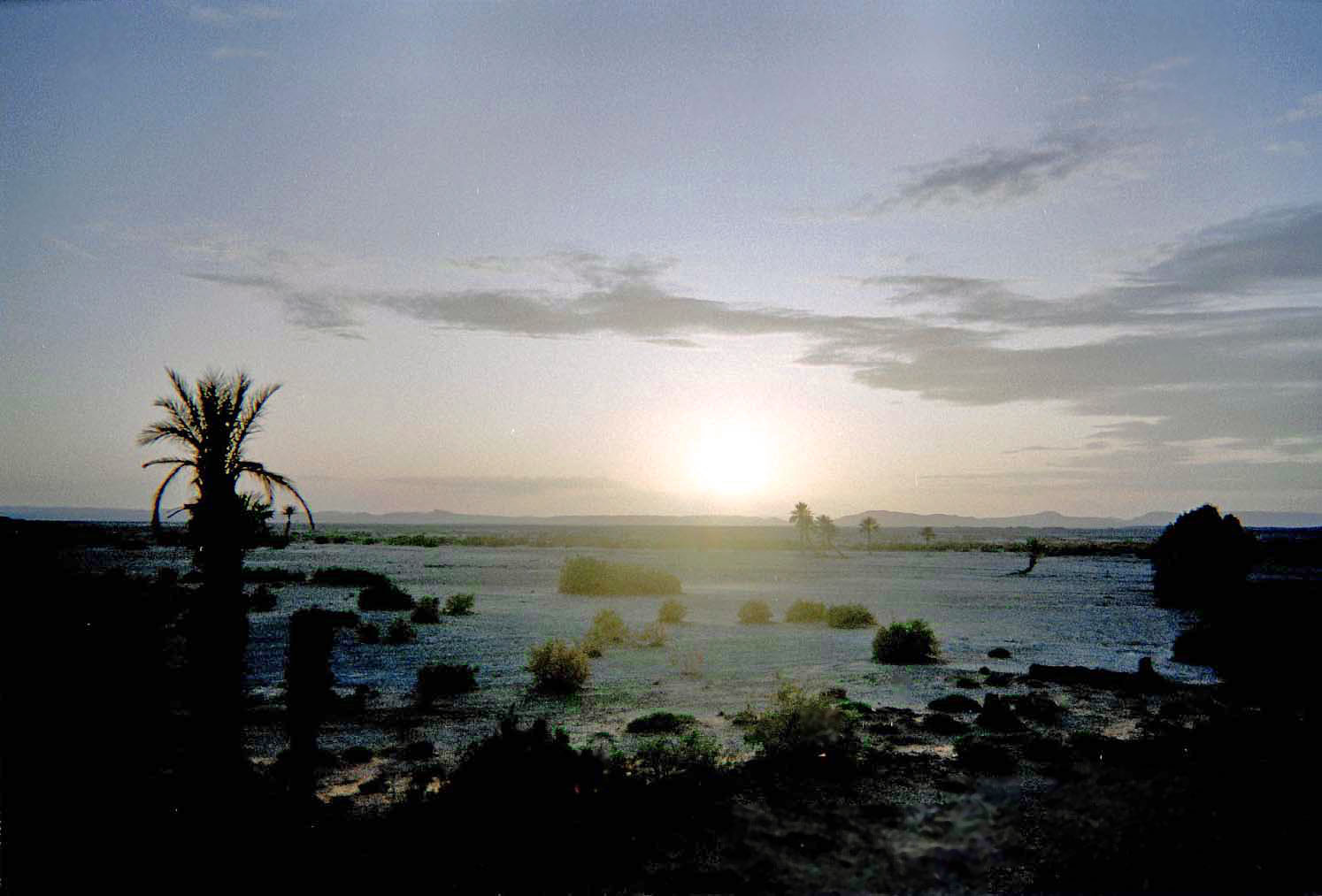 Sunset at desert
The English gals were from Manchester. I said, "I have a friend in UMIST", then they were interested with it. Regarding Madrid, where they lived, they said, "Prices became high as same as other big cities. Barcelona is the same situation, after Olympic, prices increased high". I didn't talk to the Belgians well. In Morocco, I often felt I could speak French. "What's your mother tongue?", I asked one of Belgians, who spoke English a little, but he didn't understand. He asked me what did "mother tongue" mean, I taught him it.
The Belgians had a good binoculars, and they let me use. I saw the moon which was right above, I could craters. I saw towns and dunes in the distance.
Compared with me and other Japanese, The Belgians' travel seemed to be easy-going and comfortable, because they spoke French.
We had a tajine for a dinner. It was dark and we got a light of oil lamps. We talked each other include Berbers of the rest house. Berbers began to play tom-toms. They let me to play it.
After a while, many people came to the rest house. They had been staying there and going somewhere during a day. Five persons of them lived in London, and two of them were from Taiwan and worked for a college. One of them worked at Computer Center, and he had a E-mail address. He and I exchanged Email addresses. I was surprised at meeting a person who had Email address in a desert. Other guy from Taiwan was a economist, and he spoke Chinese, English, Spanish, and French. Other three of five were women, they lived together. One of them was from Australia. What a International it is.
"Where did you come from?", "What do you do?", We talking each other. Birth places and living places were various. Languages also various such as English, Spanish, French, and Chinese. I didn't understand most of them, and talked to English speaking person only. Some persons spoke two or three languages. I also speak two languages, Japanese and English.
The economist from Taiwan had been stay a college in Costa Rica a year, he had learned Spanish at that time. The English gals lived in Madrid spoke Spanish. One of them also spoke French. "If you speak English, French, and Spanish, you can go all over the world", "How about Chinese?", we talked.
After a dinner, Berber began to play drums. It was a great as well as Black African's drums I listen at Paris. They sang songs with tom-toms and bells. It's a world of a movie "The Sheltering Sky". I abandoned myself to the strong and comfortable sound.
I went outside. I saw the moon shining above. There was only a moon light. I saw a shadow of myself made by the moon light. I looked up stars. I spent New Year's eve like this. While waiting a New Year, we sang songs. One of Berbers sang a Japanese song, I joined, and others also sang various songs. Berber sang other Japanese song. It meant many Japanese tourists had been coming here.
"Next, Chino!", after Taiwanese, Five English gals sang a song. Berbers knew the song they sang, and joined them, so everybody was surprised.
Spanish, Belgian, Australia sang songs, and Berber played drums. When I went outside, I heard the same sound of drums from other rest house in the distance.
It's a New Year's day. Man and man, man and women, women and women, we kissed each other on a cheek. Five English gals began to sing "Auld Lang Syne". What a fantastic night it was.