カンボジア旅行記 2008
Cambodia 2008
tenagamon
Sun, 03/16/2008 - 14:02
This is a travelogue of visiting the ruins of Angkor, Cambodia from 3rd March, 2008 to 8th March, 2008
旅行の準備
Preparing for travel
tenagamon
Mon, 03/10/2008 - 20:50
I will go to see Angkor Wat. Then the preparation was started. The necessary one is a visa of Cambodia, an airline ticket, a hotel, and "Chikyuu no arukikata".
Air Ticket
I got an air ticket of round trip for Bangkok, Thailand by using Northwest Airlines's miles. I could spend six days for travel. In March 2008, ticket from Narita to Bangkok needed only 10,000 miles on any day. But ticket from Bangkok to Narita needed 20,000 miles. After all, I could booked a flight leaving Japan on 2nd March, and returning to Japan on 8th March. It needed 30,000 miles and 4520yen for Bangkok airport tax and oil surcharge.
Next, I prepared for round trip ticket of Bangkok / Siem reap. I searched with words such as "Bangkok air ticket arrange" by google, then I found travel agent Program D that I know its name. I decided to use this agent.
A round trip ticket for Bangkok/Siem reap had taken 9800 baht. I ordered by mail and got reply within the day. It's so convenient that you can pay by transfer to their account of Japanese bank. You can decide any day before ticketing limit as a day of transfer. Program D will email a bill the day before the day of transfer. The price is calculated with a rate of emailed day. You can transfer to their account of Japanese bank next day. If you want pay by credit card, you should pay extra charge.
I had to pay 700B for Airport tax and 1470B for oil surcharge. Total price was over 42,000yen. Expensive!, 1470B for oil surcharge. A distance between Bangkok and Siem reap is near between Tokyo and Osaka.
Accomodations
Next, I needed an accomodations. I would arrive at Bangkok on midnight of 3rd March, and leave their next morning, so I need the hotel near the airport on 3rd March. I also needed the hotel on 7th March after return from Cambodia.
I searched by the Internet, then I booked Avana hotel by HotelTravel.com. It's $36 with breakfast. It isn't near the airport because it's located at halfway between airport and Bangkok. Their was not cheap hotels near the Suvarnabhumi International Airport, except for an expensive airport hotel.
It took 20 minutes from the airport to Avana hotel by taxi. It's 220B. A room was big. It's good enough to just sleep. I took a buffet style breakfast at a restaurant beside a pool of second floor. It's open air and a wind was very comfortable. The hotel is located at a little away from a main street. Their is no shops around their.
I booked a hotel located at downtown of Bangkok for 7th March. I would not go sightseeing but just buy Thai rice at supermarket, so I searched a place for shopping. I found Bangkok City Inn, it seemed to good. HotelTravel.com said it's full, and I had to search other booking site. Finally, I booked the hotel at Octopus travel. 3900yen with Breakfast.
Bangkok City Inn is located between Pratunam and Central World Plaza, and there is a supermarket called "Big C" near there. It's very convenient for shopping.
Next, I needed a hotel of Siem reap. It seemed to be OK to go without reservation. A guidebook, which I bought from a4trip.com, shows many budget class guesthouse that has web sites or email addresses.
It seemed to easy for booking by the Internet. I checked some guesthouses by the Internet and decided to book molly Malone's, because it is located convenient place and WiFi is free for guests. Molly Malone's has a booking form page in their web site, but it didn't work. I emailed them to book. $20 / night, without breakfast.
This guesthouse is located in an old market area, it's very good place. There is convenient store called "MiniMart". Many street stands for foods open in the evening in front of the guesthouse, and along the street, there are many retaurants. It's easy to get food or dinner. There are Internet cafe, massages, and banks also. Molly malone's provides free WiFi for the guests.
But 1st floor is Irish Pub, and in the night you have to listen very loud music. It's very noisy.
Cambodia Visa
You need a visa to go to Cambodia. That's a bother to go to Cambodia embassy.You can get visa at airport. But I found e-visa and tried it. Normal visa takes $20 to get, but e-visa needs additional $5 for processing charge. If you want to get visa before leaving, e-visa is so good that you need not go to Cambodia embassy. You can apply from web page with your picture taken by some digital camera, and credit card payment is available. Here is a link. http://www.mfaic.gov.kh/evisa
Guidebook
"Chikyuu no arukikata - Angkor Wat & Cambodia" is very good for Japanese.
I bought a following guidebook. It also good one. You can buy as discount price if you apply e-Visa.
シェムリアップの宿、食事、買い物など
Hotel, meal, shopping at Siem reap
tenagamon
Sat, 03/15/2008 - 23:50
Money exchange
You can use US dollar at Siem reap, I exchanged Japanese yen for 200 US dollar at Narita airport. $1 was 106.17 yen on 3rd March, 2008. At Bangkok airport, I exchanged 5,000 yen for 1570 Thai baht for taxi,meal and others. At Siem reap, I needed US dollar and I exchanged at a bank and money exchange booth. At a Cambodia Asia Bank, I exchanged 2,000 yen for $18 and 2,000 riel. At a money exchange booth, a rate was bad, I got only $17 and 2,000 riel.
At Siem reap, you can use us dollar. Riel is for use of less than one dollar, it's the same as a cent in the US. You don't need exchange your dollar or yen for riel.
Hotel at Siem reap - Molly Malone's -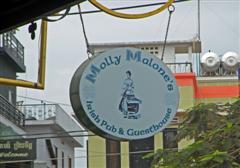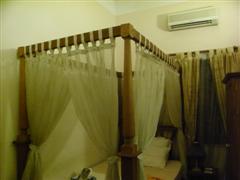 Single room is like this.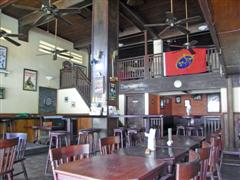 A pub at first floor is like this. Very noisy at the night.
As describing on the "Preparing for travel" page, I selected Molly Malone's from budget class guesthouses. I didn't know that 1F is Irish pub. Later I found it on a restaurant pages of "Arukikata" (guidbook) and described as "it also drive a guesthouse"
I stayed there 3 nights. A location is very good. There are many restaurants near there, and comvenient store. There are massage shops, Internet cafes, travel agents. You can go an Old Market easily.
They have transporting service from/to airport. I ask them to transportation. When I went outside from the airport, I could find a man who had signboard written my name. I had expected there were many persons who tried to take me to their hotels, but very few people ask to go with them. I guessed that the man was an employee of Mooly Malone's, but it's not. He is a taxi driver.
Anyway, He took me to the guesthouse and I asked him to pick me up at 3 o'clock to go to Angkor Wat.
A room was single room, it means the room has only one bed, and it seemed smaller than the picture of twin room on their WEB site. It was like a Japanese business hotel. It cost $20 per night.
A big reason to select this guest house was free WiFi. I didn't like to bring a laptop, but I had a PDA with WiFi and it's enough to read emails. I tried to connect WiFi. It's easy to find access point, but I couldn't connect to it. I went downstairs and ask how to connect WiFi. I needed password to connect and I got it. OK. It's easy to connect with password. It's very convenient to use the Internet.
Meals at Siem Reap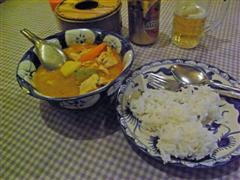 Chicken curry at Khmer Kitchen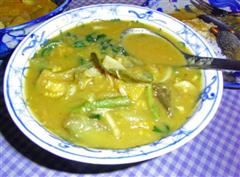 Soup at Khmer Kitchen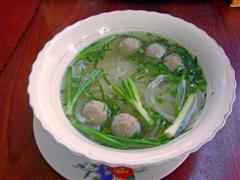 Meat-ball noodle at Soup Dragon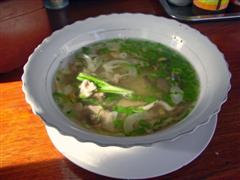 Pork noodle at Soup Dragon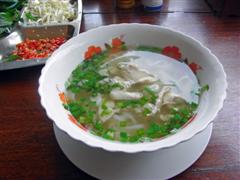 Beef noodle at Soup Dragon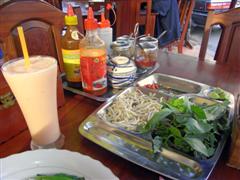 Herbs and spices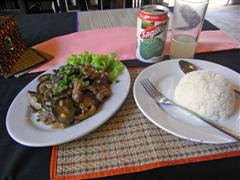 Stir-fried beef and mashroom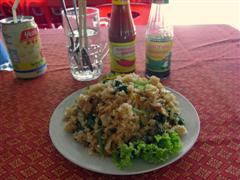 Fried-rice with meat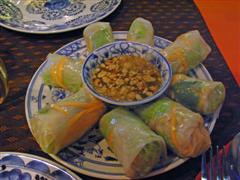 Spring roll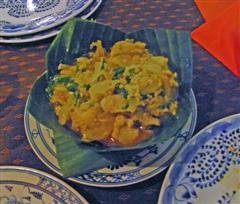 AMOK
First night, I went to a street near a Pub street. There are many new trendy stylish retaurants. Many travelers had been coming to the street.
I walked around the street to look for a restaurant seemed to be good. It's early time and most retaurants were empty, but Khmer Kitchen was crowded with tourists. It's a famous restaurans not only Japanese "Arukikata" but also other language's guide books recommends this restaurant.
I ordered chicken curry, vegitable soup, and Anchor beer. Curry was so good, but soup was not my taste. It's hot, and taste spice I don't like.
Next morning, I took a noodle at Soup Dragon which located the same street of guest house. You have two choice of noodle, one is Cambodian style and the other is Vietnumese. Herb and spices box is served with noodle to ajust taste as you like.
This restaurants is crowded in the morning. It's very delicious noodle, so I took all breakfast at here while I stay Siem reap.
I had a lunch on 2nd and 3rd day at restaurants near the ruins which taxi driver took me. On 2nd day, I went to the restaurant located between Pre Rup and Taprohm, which is for tourists. It takes $6 for stir fried beef with machroom, rice, and soft drink. On 3rd day, I went to a restaurant inside the Angkor Tom, it takes $3 for fried rice with meat.
On a second day, I booked a dinner with Apsala Dance show. I told some name of a restaurant from guide book to a driver, but he recommended Jasmin Angkor which is located near the guest house, and took me to there.
The dinner was buffet style, it's so nice. The charge was $12, and I order Angkor beer, it's $1. The show took an hour, I had a fun, but not so great one. I guess this kind of culture had also destroyed and started from zero.
On a third day, I went to Kumer Traditional Food that was located on the street near Pub street for dinner. The restaurants on this street was not so crowded except Kumer kitchen, but most of them were brand new, you should try these restaurants. Kumer Kitchen was popular because of reasonable price.
I ordered spring roles and AMOK which was Cambodian traditional food. It's more delicious than Kumer Kitchen. I drank a jug of beer, but total cost was less than $10. AMOK was very delicious.
I found some good restaurants, but I guess a Cambodian restaurants business is not so matured, because dishes of food court in Bangkok was better than Siem Reap restaurants. It's very high level of food business in Bangkok.
Shopping in Siem Reap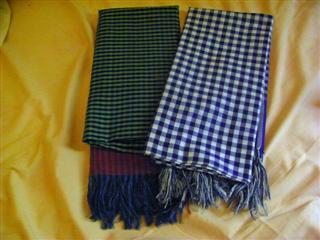 Krama(Cambodian scarf)
I bought two kramas. I paid too much, it's $6 for two.
アンコールトムで子供から買った縦笛
The recorder I bought from a child at Angkor Thom
post_monchan
Sat, 05/02/2009 - 18:40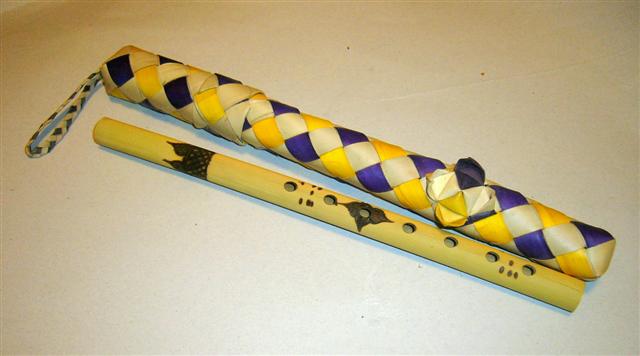 The recorder I bought from a child at Angkor Thom
At each Angkor ruins, children were selling various goods to tourists.
I bought this recorder at Angkor Thom from some child by $1. It's in a case made of palm tree leaves. It sounds seven notes, C, D, E, F, G, A, B.
I don't buy anything from children usually, but at Cambodia, I did.
Children sell postcards, accessory, etc.
オールドマーケット
Old Market
tenagamon
Wed, 03/26/2008 - 16:01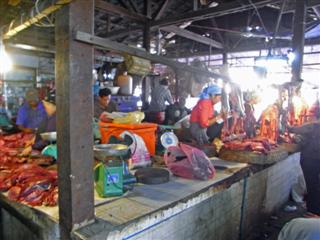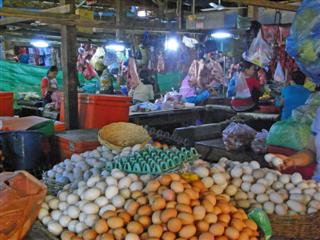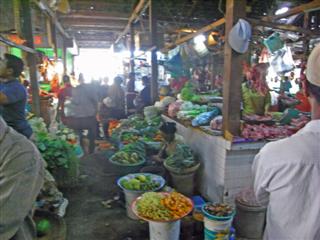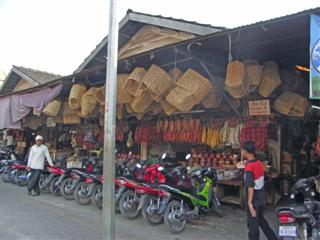 Old Market.
アンコール小児病院
Angkor Hospital for Children
tenagamon
Sat, 12/20/2008 - 21:02
There is a hospital in Siem Reap named "Angkor Hospital for Children". This hospital was established in 1999 by Japanese NPO Friend without a border JAPAN ( Friends USA ). It located on the way to the ruins area from Siem Reap town, so you often passed it through.
When we passed it through, a taxi driver said "This is a children hospital". At that time, I didn't know about it, but the driver teach me the hospital was established by Japanese. I also found a booklet of the hospital at some restaurant in the town, then I learned a detail, that Mr. Izu Kenro, he is a photographer, established NPO and the hospital.
When you come to a front of the hospital, you can always find many motor bikes and people. From the driver's talk, I felt his thanks and proud.
I'm just a tourist visited Cambodia to see Angkor, but I want to do something for Cambodia, then I give a donation to Friend without a border JAPAN.
I got a newsletter from FWAB. It has a list of a person who donated from January to August 2008. I found my name on it. The person's name is also on a name plates at an entrance of Angkor Hospital for Children.
アンコール遺跡群について
Angkor ruins
tenagamon
Sun, 03/16/2008 - 10:56
How to go around Angkor ruins
In my case, I asked taxi to pick up at airport, and I also asked the same driver to take me to the sight seeing of Angkor ruins. I paid the followings:
Day 1: $10 for Airport to the guest house and guest house to Angkor Wat. (I took bike taxi to back to the town, $3)
Day 2: $30 for going around Banteay Srei, Pre Rup, Ta Prohm, and Banteay Kdei. $30 was good price because usually it took more if you wanted to go Banteay Srei which was far from Siem Reap.
Day 3: $20 for going around Preah Khan, Neak Pean, and Angkor Tom. If you like to go Roluos ruins rather than Preah Khan and Neak Pean, you have to pay $25.
I found many European and American tourists rent a bicycle. Some tourists went to Banteay Srei by bicycle (30km away from Siem Reap). TukTuk was also popular. Sometimes group tour of Japanese, Korean, or Chinese had been came by big sightseeing bus.
Bike taxi was not so bad, but I was scared of it. It's dangerous to use for long distance. I took once, and a speed was so high, I was scared. Of course, nobody use helmet.
The driver's primary job was a soldier. He was on holidays, and rented a car to earn money by taxi. If he rent a car until sunset, tourist pay $30 to him and he has to pay $20, so he get $10. If he return a little bit early, he has to pay $16, so tourist pay $20 and he get $4.
The guide book said there were electric car around Angkor Tom, but I didn't see it.
Ticket of Angkor Ruins
On a first day, I bought 3 days ticket at a ticket center on the way to the Angkor Wat. At a window for 3 day ticket, they took a picture of my face, and print it on a thin paper ticket.
Each ticket window had a very small digital camera, which you can see at a passport control at an airport, and ticketing was very smooth. I surprised that I found sometimes very high-tech work in Cambodia. I found "APSARA AUTHORITY" and "SOKHA HOTEL Co., LTD." on the ticket. SOKHA HOTEL was consigned tickets by government.
Revenues from Entrance Fees to Angkor Wat [...went Missing in Corruption?]
The article above describes a doubt that SOKHA HOTEL don't say right revenues from entrance fees. The tourists will pay much money, if the revenues are spent for repair the ruins. It should be clear.
Summary of Angkor Era
The third king of Angkor Kingdom, Indravarman I came to the throne in 877. He built his capital at Roluos. (I didn't go to Roluos this time)
Yasovarman I came to the throne in 889. He built his capital around Phnom Bakeng Hill. The capital was area of 4km square, but now only temple of Phnom Bakeng is remained. He also built a reservoir called East Baray, which is dried now.
On the first day at evening, I climbed up the Phnom Bakeng Hill. It's cloudy, I couldn't see a setting sun. A time of sunset in March is around 18:30, but the temple closed at 18:00.
->A page of Phnom Bakeng on this site.
Jayavarman IV. He built his capital at Koh Ker, which is 95km north-east of Angkor ruins.
Koh Ker ruin is far from Siem Reap. "Arukikata" guidebook describes this ruin, and it says it's not safe and you have to go with a guide of a trusted travel agent.
Rajendravarman II came to the throne in 944. He built East Mebon and Pre Rup.
Pre Rup is a pyramid style temple. You can see a good view from top of the temple. I was also scare of the stairways of this temple. I didn't go to East Mebon temple, which structure is similar to Pre Rup.
-> Pre Rup page of this site
Yajnavaraha, who served to Rajendravarman, built Banteay Srei around 990.
-> Banteay Srei page on this site
Jayaviravarman. He became a king around 1003. He started to build Ta Kev temple, but he lost his power by Suryavarman I's challenge, and stopped to build the temple.
Udayadityavarman II came to the throne in 1050. He built Baphuon and West Baray. East Baray had been dried by that time.
Suryavarman II came to the throne in 1113. He built Angkor Wat.
->Angkor Wat page on this site
Temples of the same age: Thomanon, Chau Say Tevoda
Jayavarman VII. After the Angkor Wat era, Angkor once was ruled by Champa in 1177, but fought against Champa and finally conquered the Champa. He built Angkor Thom. At the beginning of the 13th century, he built Bayon Temple. He also built Ta Phrom in 1186, Preah Khan in 1191, Banteay Kdei, Neak Pean, and Sras Srang.
->Angkor Thom page of this site
->Ta Phrom page of this site
->Preah Khan page of this site
->Banteay Kdei page of this site
->Neak Pean page of this site
Jayavarman VIII came to the throne in 1243. He was a strong believer in Hinduism. He destroyed the Buddha statues and deleted reliefs of Buddhist temples.
Around 1431, it's end of the Angkor era.
アンコール・トム
Angkor Thom
tenagamon
Wed, 03/26/2008 - 10:17
Parapet of South Gate bridge. Asura who pulls Naga
Important items of Angkor Thom are placed at central area of its 3km around. The driver said that it took 3 hours to see. It's worth taking 3 hours to see. But it's too hot to visit afternoon.
A parapet of a south bridge to cross a surrounding moat is made with statues of "Churning of the Milk Ocean". On left side, Gods are pulling Naga, on right side, Asuras are pulling Naga. You can see this motif here and there.
アンコール・ワット
Angkor Wat
tenagamon
Thu, 03/20/2008 - 00:38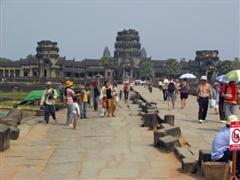 Angkor Wat view from west gate
At the afternoon on the first day, I visited there first. Among Angkor ruins, only Angkor Wat is oriented to the west. So, it is better to visit afternoon.
My first impression at the gate was its great size. From the gate, I could see the west tower and the tip of central tower. It seemed to be far away. I was excited with this view. I across a long bridge of the pond around the temple, and entered into the next gate. I found a long road to the outer wall. At this point, I could see the central tower and whole figure of the temple which I had seen only TV and pictures.
If you see the all reliefs on the outer gallery, the sun would set during it. I saw the reliefs along the wall for right direction, but eventually I didn't see the reliafs on the wall of left half. It would be helpful if you have a guide to know important reliafs and their explanations.
I couldn't see the Churning of the Sea of Milk because of under construction of the area. I also couldn't climb up the third wall because of under construction.
タ・プローム
Ta Phrom
tenagamon
Wed, 03/26/2008 - 00:34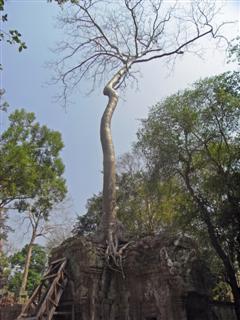 1. A scripture house with a big tree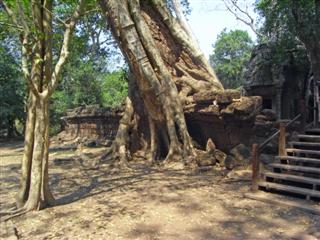 2. A fence almost corrupted by a big tree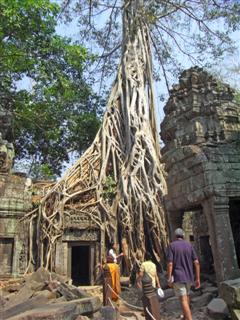 3. Entwined thin roots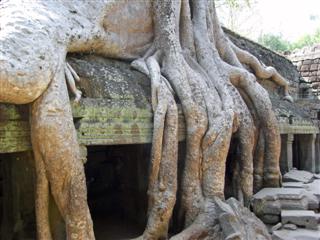 4. Big root
A big tree growned above a small scripture house and covered with its roots. The scripture house was almost corrupted and supported by wooden bracer.
A big tree's roots running on a fence
A lot of thin roots are entwined
A great tree roots
ニャック・ポアン
Neak Pean
tenagamon
Wed, 03/26/2008 - 10:09

Panorama view at a central tower of Neak Pean
バンテアイ・クディ
Banteay Kdei
tenagamon
Wed, 03/26/2008 - 00:48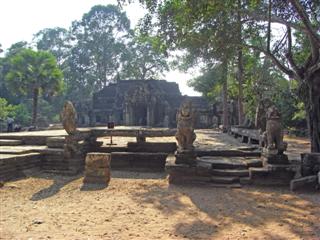 A wide terrace of Banteay Kdei
バンテアイ・スレイ
Banteay Srei
tenagamon
Sun, 03/16/2008 - 14:23
Which devata is "an oriental mona lisa"?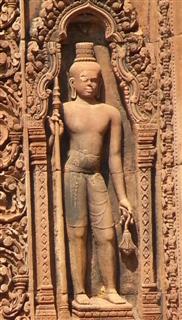 Dvarapala
Banteay Srei is especially beautiful temple among the angkor ruins, and called "precious gem". There are many beautiful devatas and speciall one is called "Oriental Mona Lisa". Question is "which devata is an oriental mona lisa?"
"Arukikata" and other guide book describe that a devata on a wall at right of a front of a central building, who looks left, is "Oriental Mona Lisa".
There are beautiful devatas on walls at both side of the front of the central building. On a wall of backside of the building, you can see beautiful devatas.
I think It's OK to call all devatas as "Oriental Mona Lisa"
On the wall of the central building, there are not only devatas but also dvarapalas. They also are good looking.
Gables of Banteay Srei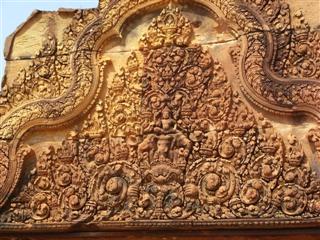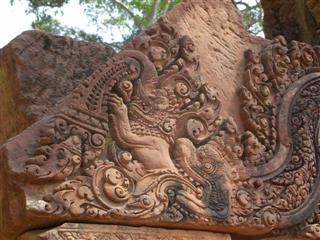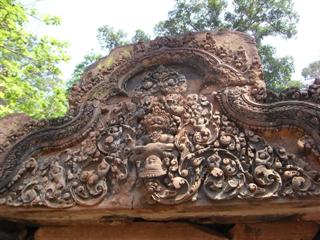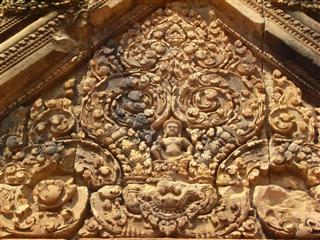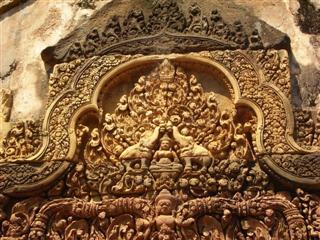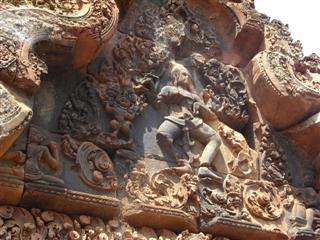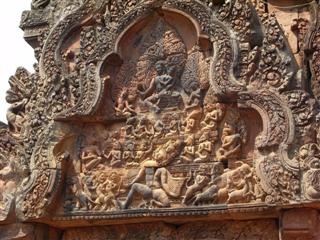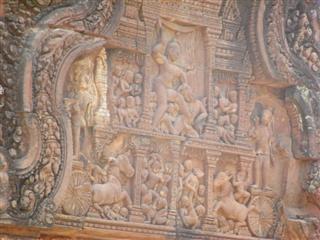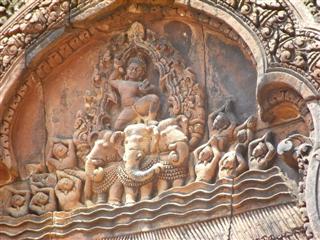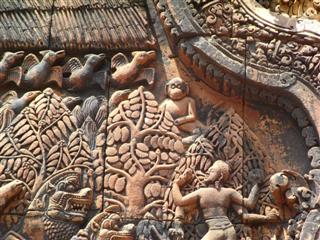 Others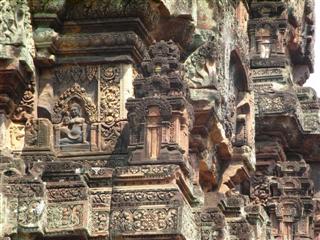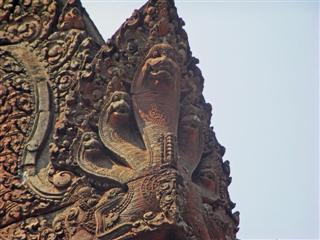 プノンバケン
Phnom Bakheng
tenagamon
Sun, 03/16/2008 - 11:01
Phnom Bakeng is a small temple located a top of hill. A height of the hill is about 60m, and a height of the temple is 47m. You can see good view from a top of temple. You can see a tower of Angkor Wat to a direction of south-east, I didn't aware it. Stairway to the temple is 70 degree and I was scared of it.
An approach to the temple was closed
A steps to approach to the temple was closed. You can find many pictures of people going through this approach. I can guess if many tourists going up on this approach, then the steps crumble easily.
I make a panorama from pictures taken at the hill

Many tourists come to see a sunset. I went there in the evening, but I couldn't see a sunset because of many clouds. A time of sunset in March is arround 18:30, and the tourists have to leave there by 18:00.
You can ride an elephant between an entrance and hilltop.
プリア・カン
Preah Khan
tenagamon
Wed, 03/26/2008 - 09:53
Garuda at Preah Khan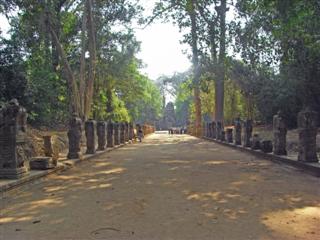 An approach to Preah Khan
プレ・ループ
Pre Rup
tenagamon
Mon, 03/24/2008 - 23:54
ドトールありがとう募金
Doutor Arigato Fund
tenagamon
Fri, 07/18/2008 - 23:41
I often use Doutor Coffee Shop. I noticed that they operates . I've got a brochure.
This donation is operated in partnership with ASAC, which is an NPO to build schools in Cambodia, and 36,938,453 Yen was earned from September 2000 by the end of March 2008, and 14 schools was built.
[update]: According to the most recent data, 50,565,702 Yen earned (as of February 28, '10), 20 schools was built.
I found that there is a connection with Cambodia. I will try to raise money.
バンコクにて
At Bangkok
tenagamon
Wed, 03/26/2008 - 15:06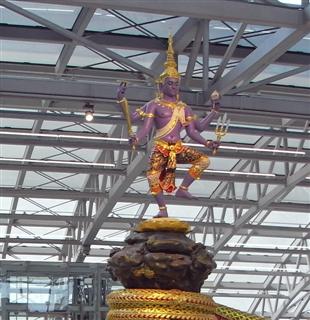 A display of Churning of the Milk Ocean at Suvarnabhumi International Airport
Inside of a passport control gate at Suvarnabhumi International Airport, I found a large display of Churning of the Milk Ocean. I didn't look it well because I didn't know about Churning of the Milk Ocean. A person at center on a turtle must be Vishnu.
There are Gods on left side, and Asuras on right side. They pull large snake.
街や遺跡でみかけたものなど
Various things I saw in the town and ruins
tenagamon
Wed, 03/26/2008 - 17:57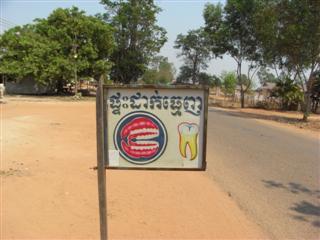 This sign may say here is a dentist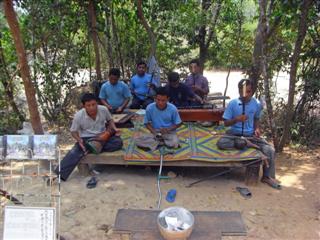 I saw bands at most of ruins. They have some disabilities by mines and war.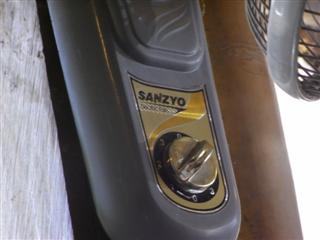 SANZYO...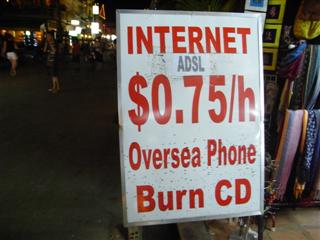 There are many Internet Cafe at Siem Reap.
Various things I saw in the town
In Siem Reap town, there are few cars, but many motor-bikes. It is very dark at night. On the other hand, I found Internet Cafes at here and there. A guesthouse I stayed has a satellite broadcast system, and I watched almost 90 channels TV, which includes TV from Thai, China, BBC, CNN, NHK, HBO, AXN and other major TV station.