タイで電車に乗り間違えた話
Story get on the wrong train in Thailand
post_monchan
Sun, 03/25/2012 - 15:35
While organizing the old travel materials, I found the timetable of railways in Thailand in 1996. It reminded me of that story.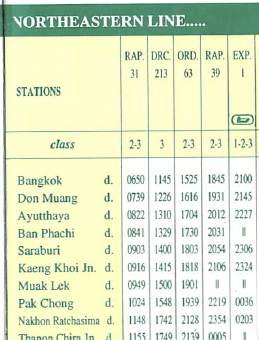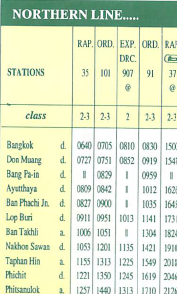 I was planning to go to Ayutthaya from Bangkok, and then go to Pak Chong by train. I had got a timetable in advance. I wanted to take the train leaving Ayutthaya 8:22 in the morning.
The trains from Bangkok is divided into towards the direction of Chiang Mai and Ubon Ratchathani at Ayutthaya. To go to Pak Chong, you have to take the trains towards Ubon Ratchathani.
The train does not come even after 8:22. I didn't worry because it's usual thing. Eventually it came at 8:40. I thought it was the train towards Ubon Ratchathani, which was late.
But it was the train bound for Chiang Mai which should leave Ayutthaya at 8:09.
I had to make sure to ask the attendant, but it's natural to regard the train was going for Ubon Ratchathani in that situation.
Anyway, I had been aware a mistake after finding a seat on a train and being calm down. I didn't remember why, or I might have anxiety, I told I went to Pak Chong. Then people around me abuzz.
I was taking the third grade seat, and no tourists around me, but only local people. Only two, three persons in the car speak English. People around me talking and Thai who speak English came out, then I explained.
In the end, local people made a plan that I got off at Lopburi and took a bus for Pak Chong, and I got a note written in Thai. I got off at Lopburi and show the note to the guy of tuk-tuk in front of the station. Because the bus terminal is away from the station, they think of a way to go to the bus terminal. The guy looked the note and took me to the bus terminal. I could find the bus for Pak Chong easily.
Thai people helped strange foreigner on a train were very kind and thankful.