USA 旅行記 1985年
USA Travel Log 1985
tenagamon
Sun, 01/27/2008 - 18:43
These are pictures I took when I travelled USA in 1985. I'm adding comments to each picture from my unclear memories of the travel of 23 years ago. It's a first travel abroad. I bought a air ticket of Korean Air. The flight stopped at Seoul and Anchorage. I arrived at New York, went across Los Angels and back to Japan with stop over at Honolulu. I moved by Greyhound Bus in USA. I bought a 21 days Free Pass.
USA1985 - ニューヨークとボストン -
USA1985 - NY, Boston -
tenagamon
Sat, 12/29/2007 - 18:14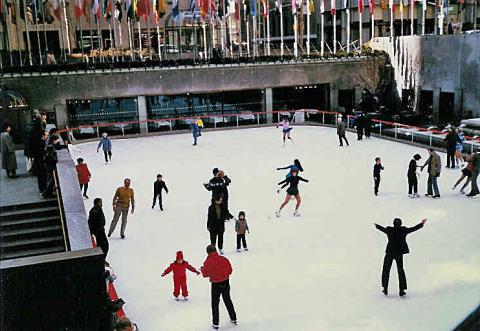 NY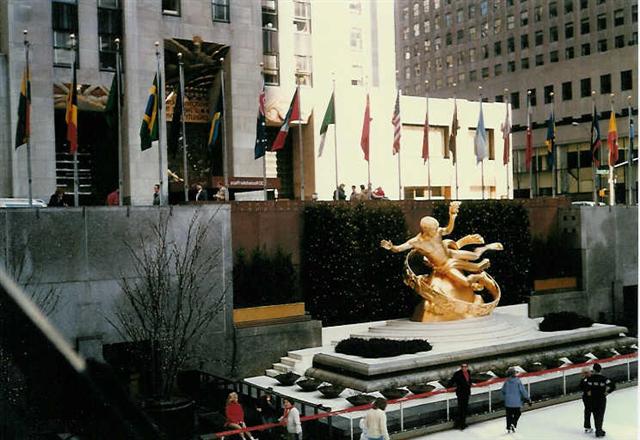 Ice Link at Rockefeller Center
I arrived at New York as a first city. It's my first travel overseas. First night, I stayed a good hotel, and moved YMCA next day. I walked around city with famous guide book, "Chikyu no arukikata".
Because I had been very impressed by "Chikyu no arukikata", I was going to travel abroad.
Next morning, in an elevator of the hotel, I talked to old lady, "Good morning, I'm tourist. just arrived yesterday". I wanted to use English. I was surprised little that I could communicate with local people.
I remember that I went city in the morning and back to the hotel almost PM 1:00, it's checkout time. Because I took the wrong train.
I walked around near Rockefeller Center, St. Patrick's Cathedral, but I have few memories about it. I should have bought a musical ticket. It should be "42nd Street".
I went to see statue of liberty with guys, who I met in a plane. I don't remember how we met them, but some Japanese guy live in NY and two girls who are Japanese students and tourists join us at the Battery Park. The guy live in NY had took the girls to some places around Manhattan for sightseeing. We had a dinner with them.
After that, I have many experiences of getting kindness to me while I travel, so I should be kind to travellers.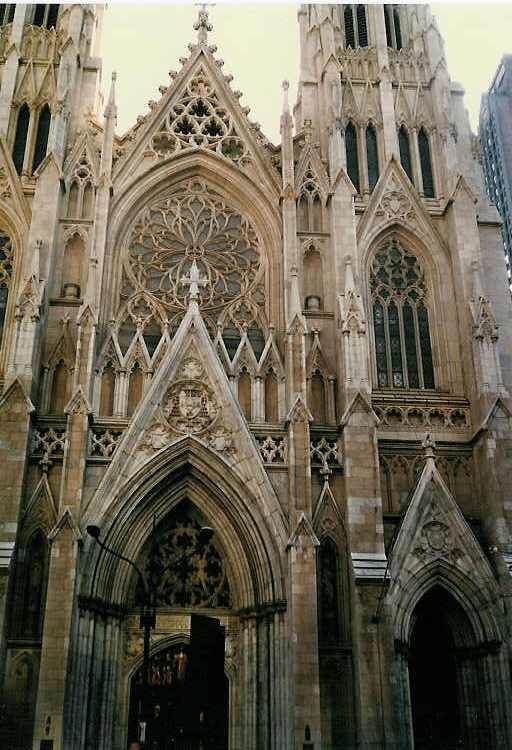 St. Patrick's Cathedral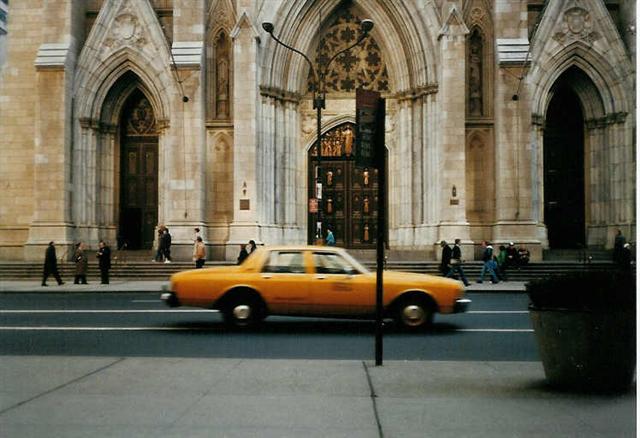 Yellow Cab in front of St. Patrick's Cathedral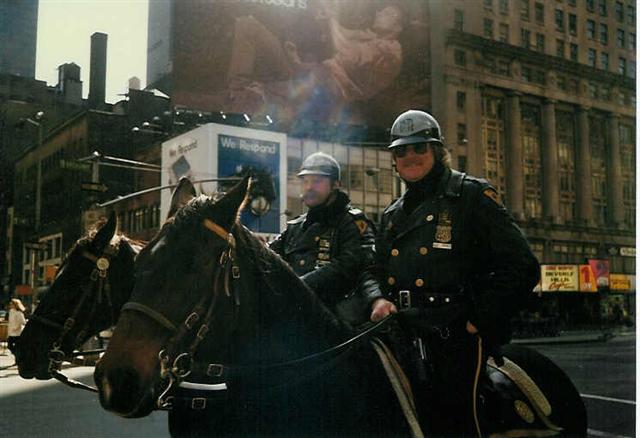 Horse mounted police
When I walk around the city, I found horse mounted police. I asked them, "Can I take your picture?". They said "OK".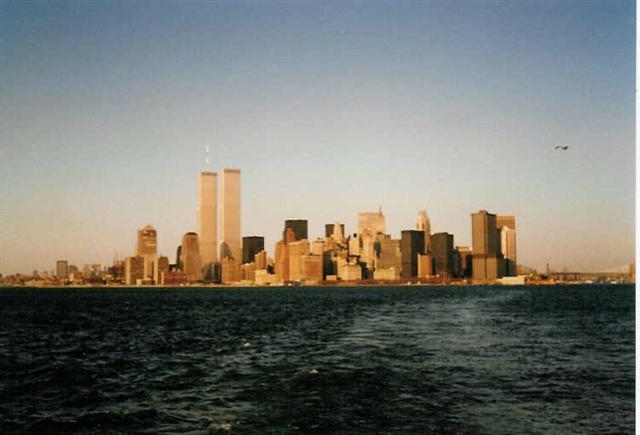 Manhattan view from a boat
I stayed in NY four days, and went to Musicals, MOMA, Metropolitan Museum, and Natural History Museum. I don't remember but picture shows snow on one of these days.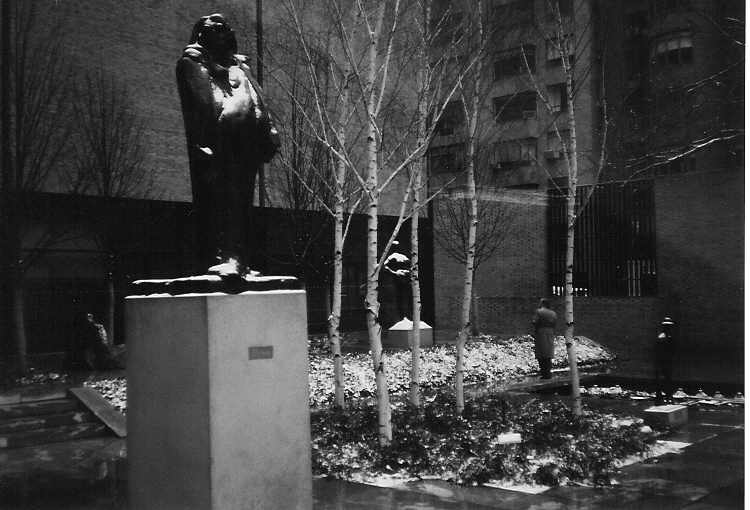 MOMA
Boston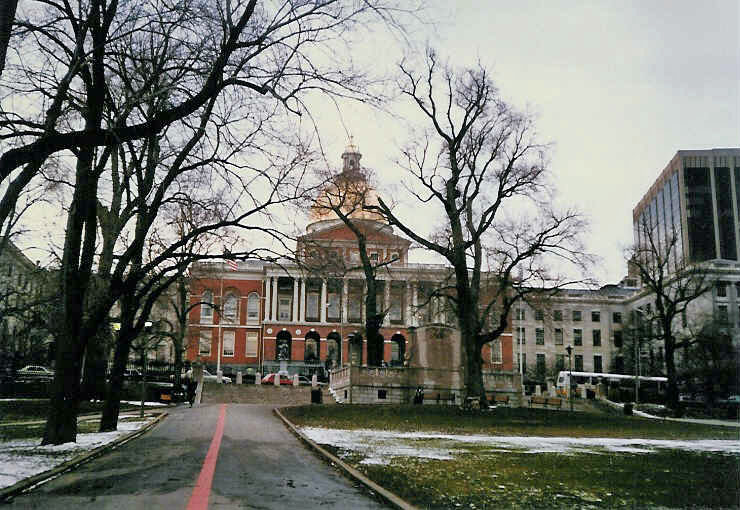 Boston Common
I moved to Boston by Greyhound Bus. I used a Bus to move from a city to a city in USA. I arranged Ameri Pass in Japan.
I stayed at Japanese family in Boston. My teacher when I was in elementary school had been stayed at Boston.
My memory is not clear, but we met at an entrance of subway on the corner of Boston Common. Boston Common is a park. A red line was drawn on the ground. You can do sightseeing in the city by walking along with the line. It's called Boston's Freedom Trail.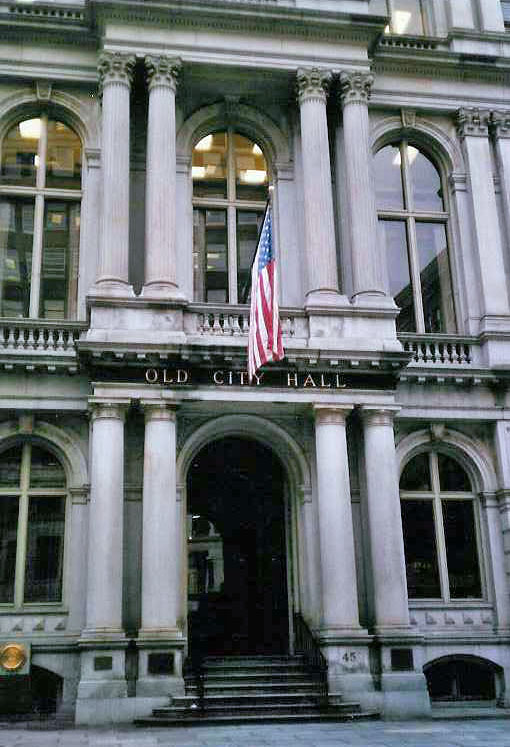 Old City Hall
They took me to many places in the Harvard campus, but I don't remember. I remember a word 'Yenching', It's a name of a library.
I also went to the Natural History Museum. I remember many bones of dinosaur.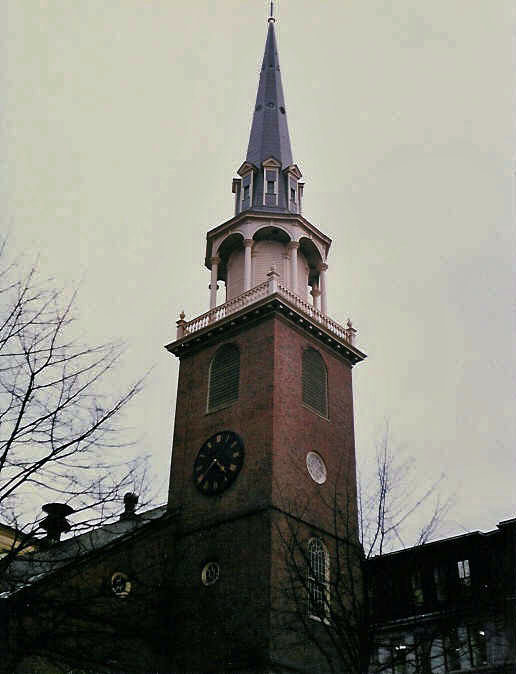 Unknown, check later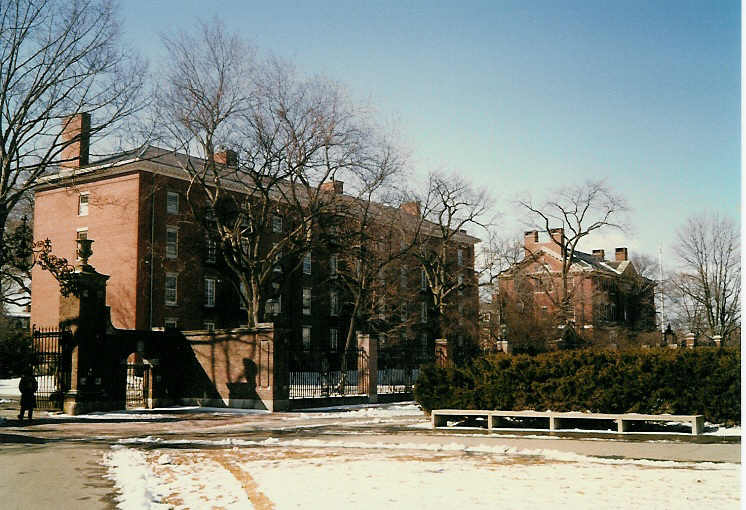 Unknown, check later
Harvard Science Center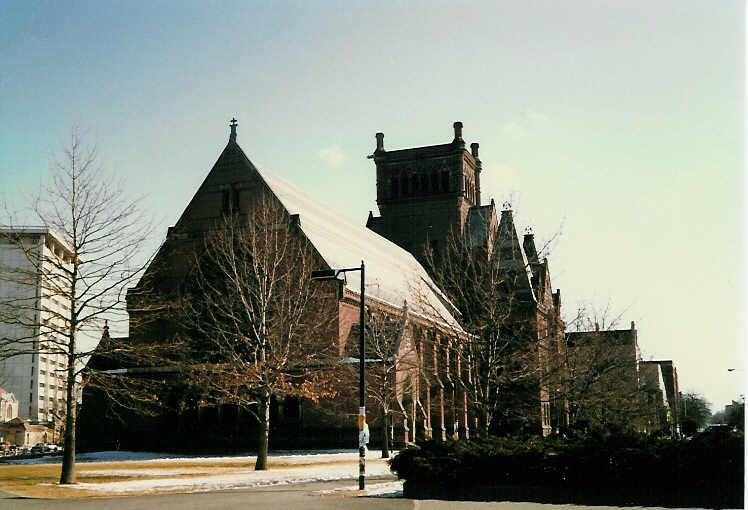 Unknown, check later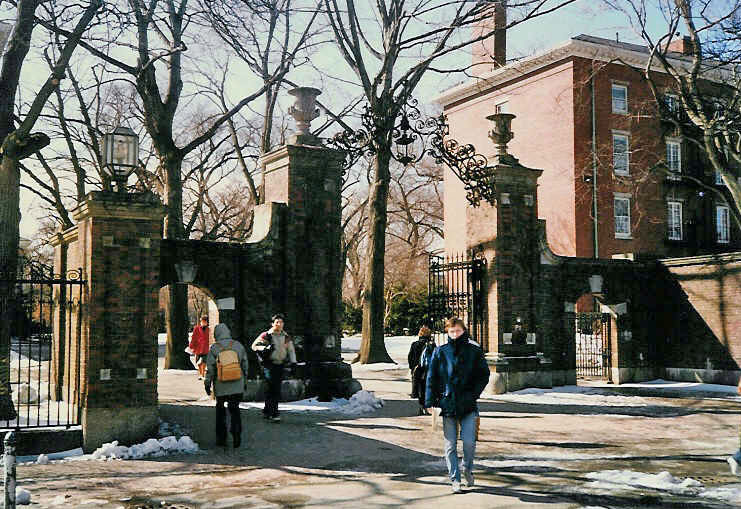 Unknown, check later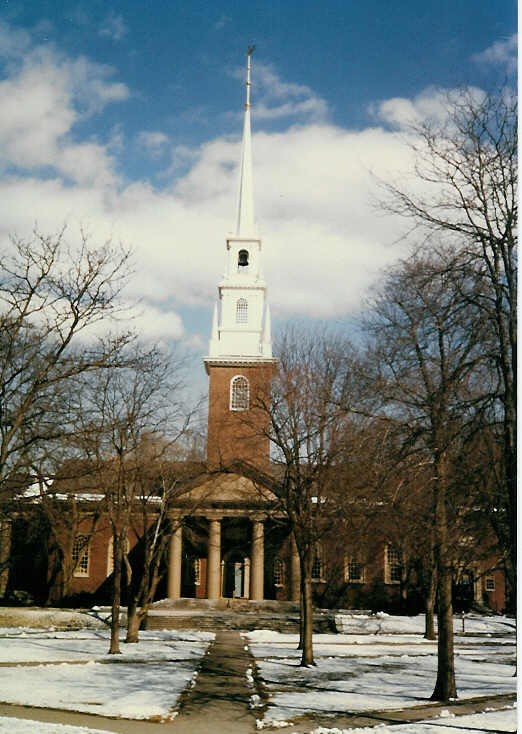 Harvard Memorial Church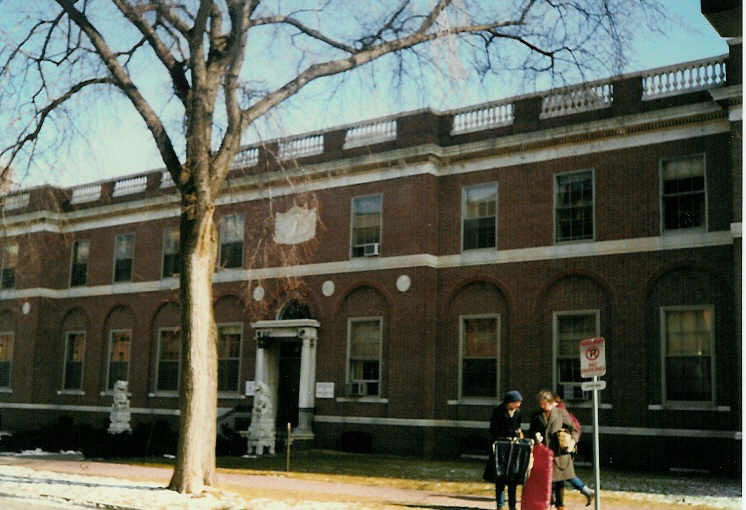 Yenching Library
I found a statue of rhino, and took a picture. I forgot the place of this, but I searched by the Internet, and finally I got an answer. It's a Biological Science Building.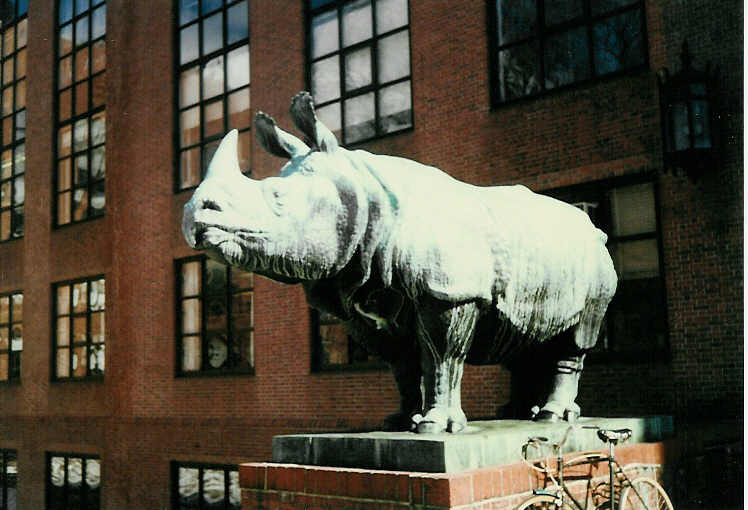 Harvard Biological Science Building
Add to the Harvard, They took me to the MIT. I went to the Media Laboratory, and I could see the LISP machine and DEC mini-computer. It was 1985, and now, I feel everything changed.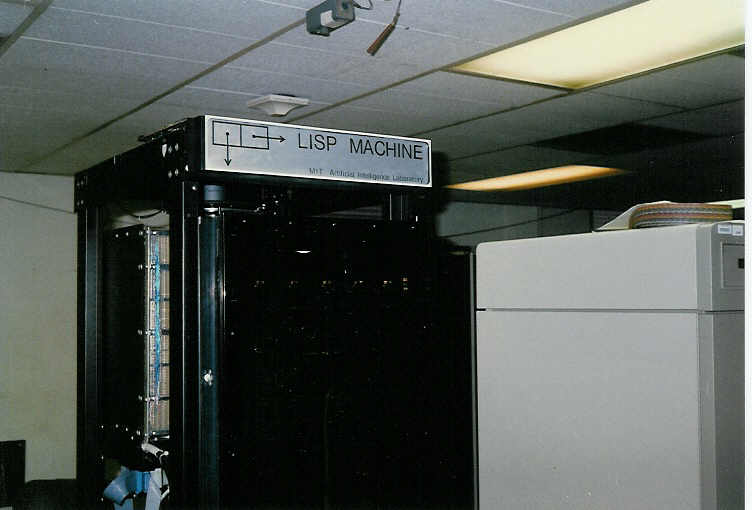 Lisp Machine, Media Lab. MIT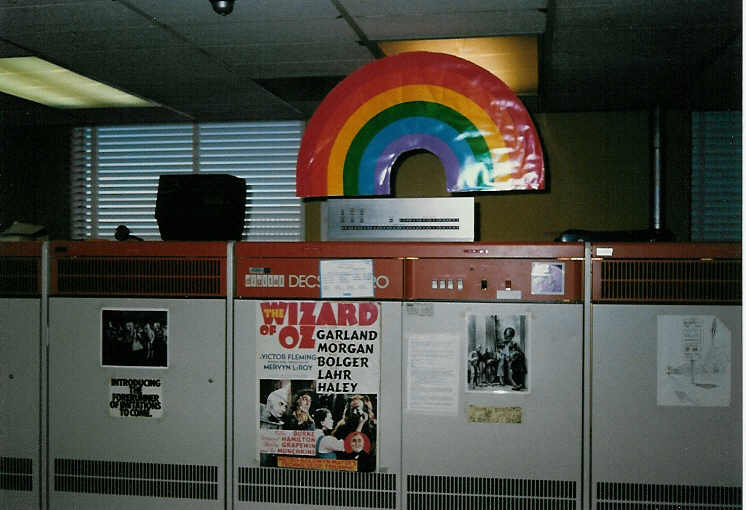 DEC Mini Computer, Media Lab. MIT
I also went to the Fine Arts, Boston Tea Party.
USA1985 - ワシントン、デイトナビーチ、ニューオーリンズ
USA1985 - Washington, DC, Daytona Beach, New Orleans -
tenagamon
Mon, 12/31/2007 - 15:23
Washington, DC
I moved from Boston to Washington, DC by a night bus. It was very hard travel. I slept in a bus once for every three nights. I was also very sleepy on that day at Washington, DC.
I found a standing signboard in front of The White House. It appealed anti-nuclear weapons. I thought it's great, this is good point of USA, and took a picture of it. You see a name of Norman Mayer in the picture. I didn't know his name at that time. He was an American anti-nuclear weapons activist.
I went up to a top of Washington monument. I remember a girl who operates a elevator was very cheerful and friendly. I became to like people of US who are very cheerful and friendly through this travel.
I was surprised at Lincoln memorial big size beyond the my expectation.
After one day sightseeing of Washington, DC, I went to Savanna. A night bus again. I stayed Southern Georgia College because My friend had been staying there. After that, I went to Daytona Beach.
Daytona Beach
It was Spring Break, so Daytona Beach was very crowded and almost all accommodation was full. But I got good room. It cost only $30, very cheep. I arrived a bus depot at night. I don't remember a reason, but I took a taxi with American young girl who looks high school girl. I also don't remember how I found the motel, anyway I got.
Next morning, a lady of the motel said to me, "Another Japanese came."
I relaxed very much. I slept long time at a pool side with music of FM radio that I brought from Japan. I bought some foods at supermarket, and made sandwiches. I was very poor at that time. Yen was very weak. It was before the Plaza Accord.
It was very hot though it was spring. The lady of the motel said "Sunshine is crazy"
A name of the motel was "Monte Carlo Beach Motel". I found a page about the motel from the Internet. But I see it is a empty lot by Google Earth.
New Orleans
After good rest at Daytona Beach, I went to New Orleans by night bus again. I took a round-trip of crossing Mississippi river by small boat instead of taking big boat for sightseeing. I also took a street car, walked around French Quarter.
I drank Hurricane Cocktail at Pat O'Briens Bar where the Hurricane Cocktail was born. I got a glass for souvenir and bring it some days, but finally it's broken.
I ate a dozen of oyster. It's first time to eat flesh oyster. I didn't know what a delicious thing flesh oyster was.
USA1985 - San Antonio, Denver, Salt Lake City
USA1985 - San Antonio, Denver, Salt Lake City
tenagamon
Sun, 06/01/2008 - 13:25
San Antonio ー15 March, 1985
After one day sightseeing at New Orleans, I went to San Antonio by night bus again.
Places to see at San Antonio are the Alamo and river walk. It's rain. I bought Maracas at one of souvenir shops in a kind of market. I think why so strange things I bought.
Denver ー1985年3月16日
I moved from San Antonio to Denver. It took twenty hours to go. In the bus, a lady who was black sat next to me. She asked me what music I listened to by my walkman. I let her listen to my walkman. It's "Yakushimaru Hiroko". It's a cassette tape at that time. She let me listen to her walkman, but I didn't know what it was.
I stayed at YMCA in Denver. I slept in a bed, not a seat of bus.
Salt Lake City -1985年3月19日
Nothing to see in Denver, I went west. I stoped at Glenwood Springs, and I enjoyed ski at small ski area called Sunlight. Girls at an entrance of ski lift were very cheerful and friendly. They said to me "Hi! How'ya doing?" or something like that every time I came to take a lift.
I stayed at a small motel and some guy who stay there took me to the ski area by his car.
As a name of Springs shows, there was public pool. I went there, but it was very different from Japanese Onsen. I was surprised that I found some people reading books in the pool.
I went to Salt Lake City. At there, I saw a church of mormonism. A person who explained points of interest to me was very kind.
USA1985 - 西海岸とホノルル -
USA1985 - SF, LA, Honolulu -
tenagamon
Sat, 01/05/2008 - 10:46
San Francisco ー20 March, 1985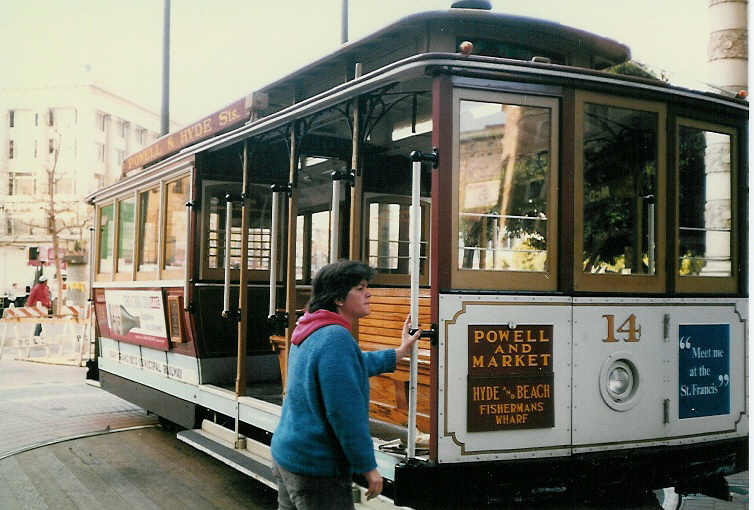 Cable Car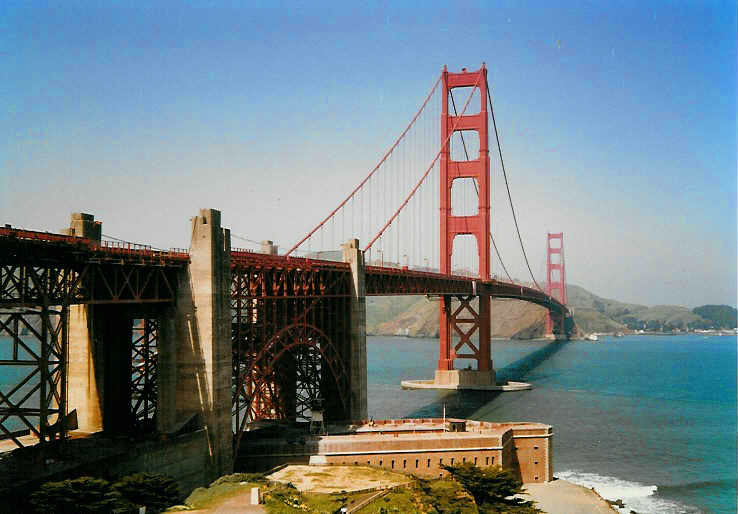 Golden Gate Bridge
Finally I reached to west coast. It's very walm and comfortable. I took a cable car, walked around peers, and saw famous Golden Gate Bridge.
Los Angels ー21 March, 1985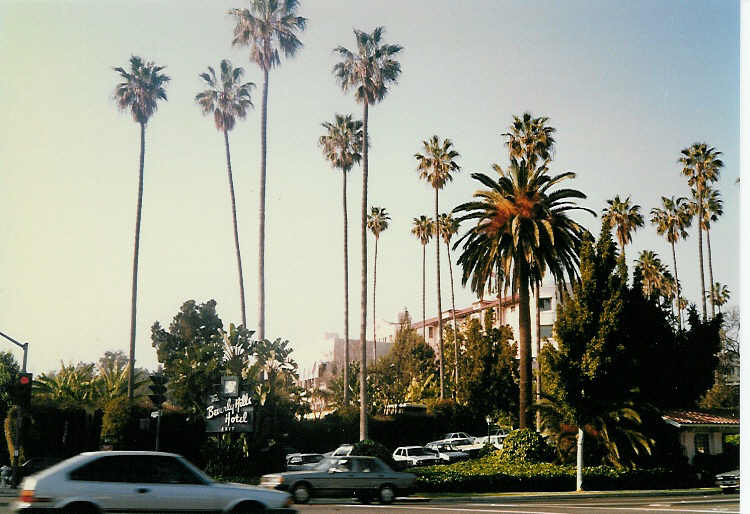 Beverly Hills Hotel
I went to LA by night bus. There were two routes to go from SF to LA. I took one that takes longer time to adjust arriving time in the morning. So I asked at a ticket counter "Why? It takes more time."
At LA, I went to Santa Monica, walked Beverly Hills, Holly wood. I went a Live House with some Japanese guy who met at LA.
Honolulu ー24-27 March, 1985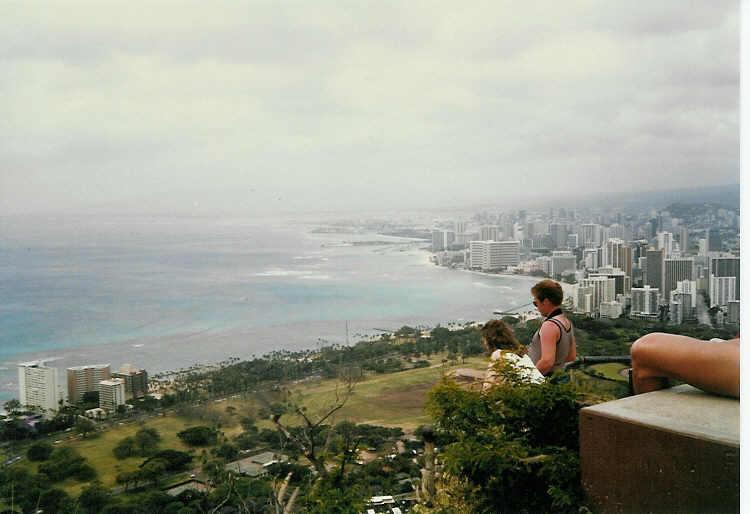 Diamond Head
Final place of this travel, Hawaii. I met two japanese guys at an airport, and we found cheap hotel. It was cheap, and we got twin room for three. One of us slept on the floor.
グレンウッドスプリングスのモーテル
Motel in Glenwood Springs
tenagamon
Tue, 01/29/2013 - 15:25
I went to Glenwood Springs when I traveled the United States in 1985. As its name suggests, it is the hot springs. There is a large hot spring pool. It is located between Denver and Salt lake City.
Why did I go to such a place? Well, because "Arukikata" (Japanese guidebook) described this place. I wanted to ski somewhere during this travel. It is a little bit strange course that I moved from New Orleans to Denver, and went to San Francisco via Salt Lake City. Because I wanted to go Glenwood Springs. At that time, I couldn't research on the Internet, I decided in such a manner.
The picture above is a room of the motel in Glenwood Springs. There was a old CRT TV, which displays baseball game. I remember I had a snack and a drink I bought at a nearby supermarket. I had a rest because I used many night bus during the travel.
Just after arrived at this town, I wonder how to go to ski area, I almost gave it up and moved to the Salt Lake City. But some kind guy took me to the ski area. I got another car to return. I wanted to gave him something. Because "Arukikata" said that five yen coin has a hole and it is rare, I gave him Japanese five yen coin. But he said, "I know it 'cause I have relatives in Japan."
It was a small ski resort, but it was impressed me that girls at the lifts are bright and cheerfully said hello.
Hot spring pool was very big. I disappointed to lukewarm water. I was surprised that there are people who read the book while soaking in the pool.
1985年のVanderbilt YMCA - ニューヨーク
Vanderbilt YMCA, New York in 1985
tenagamon
Sun, 12/09/2012 - 13:56
My first travel abroad is the United States in March 1985. At that time, it's first time to know the famous guidebook, "Chikyu no arukikata". I was surprised at the book which focused on how to travel with tight budget, rather than a tour guide. Then I had gone out because I could do it. At that time, many young people were going abroad than now.
I arrived at New York, which was my first town abroad. First night, I stayed at the good hotel I booked in advance. Next day, I moved to the YMCA. That is the Vanderbilt YMCA. It was about US$12 for single room, shared bath room. I impressed there was a TV in the room even it was cheap hotel.
I stayed four weeks in the U.S., then my style of traveling abroad was made on this trip. It started from the YMCA in New York.
昔撮った写真の場所がインターネットで判明した
昔撮った写真の場所がインターネットで判明した
tenagamon
Sun, 04/20/2014 - 14:36
昔、ボストンに行った時に撮った写真が、どこで撮ったのかわからなくてずーっと気になっていた。ふと思い立って検索したらとうとう判明した。
ハーバードで撮ったことはわかっていたので、「ハーバード 門」で画像検索したところ、以下のページが引っかかった。
http://itp09keio.exblog.jp/18363446/
ハーバードのサイエンスセンター前のマイヤー門らしい。場所も Google Earthで確認できた。インターネットすごい。
もうひとつはこの写真。
これもずっと何の写真かわからなかった。サイエンスセンターの近くではないかと思って探すと、メモリアルホールがあるのだが、写真を比べてみるとどうもメモリアルホールとは違うようだなと思っていた。
ところが、やっぱりメモリアルホールだった。メモリアルホールは1987年から改修工事が行われ、タワーは1999年に再建されたとのこと。